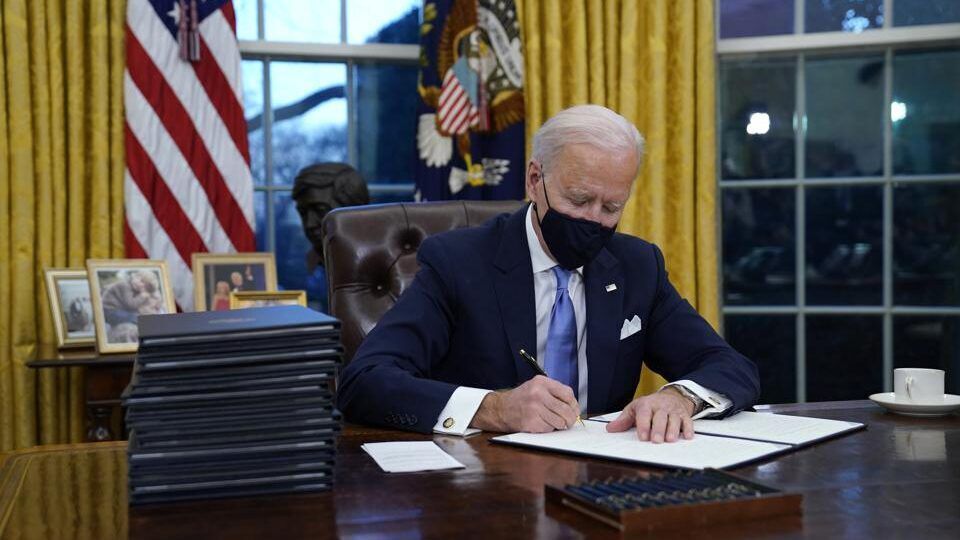 President Joe Biden took office this week, promising change for the millions of Americans who are out of work or facing other financial shocks due to the ongoing pandemic.
Getting the pandemic under control is a huge focus for Biden's first 100 days in the White House. But many of his policy priorities could have an impact on your bottom line longer term, including health care, student loans, housing and saving for retirement.
Here are the key issues to watch that could impact your finances as Biden takes office.
Passing a Third Stimulus Package
Biden has an ambitious plan for the next stimulus package. His proposal, the American Rescue Plan, is a $1.9 trillion package that with aid for Americans including another round of stimulus checks, extended unemployment aid, rental assistance, changes to both the Child Tax Credit and the Earned Income Tax Credit and more. It also includes more permanent changes, like raising the federal minimum wage from $7.25 an hour to $15, and expanding access to affordable child care. He has already extended the national eviction moratorium through March 31.
Since Biden's plan is still a proposal, it will need to be negotiated, voted on and passed by both the House and Senate before it's signed into law. Though he's signaled that he wants the bill to pass with bipartisan agreement, Democrats—who now control both chambers of Congress—could use budget reconciliation to avoid a Senate filibuster and pass the plan with only Democratic votes. 
Tackling the Housing Shortage
Although Biden did not propose changes to housing policy in his  American Rescue Plan, he intends to tackle the affordable housing shortage during his tenure. 
Biden plans to provide incentives to develop and rehabilitate low-cost housing in areas with housing shortages. He also proposed expanding the Section 8 housing choice voucher program to ensure that everyone who is eligible for housing assistance can get it.
The president also wants to increase housing affordability by providing a refundable tax credit for people who spend 30% or more of their income on rent. He'd make sure developers set aside a portion of units to be rented or sold at reduced prices to reduce race- and income-based housing discrimination. 
At this point, it's still unclear how Biden plans to pay for his housing policies. It's likely that his plans to tax the wealthy could generate revenue to help fund housing programs.
Encouraging Retirement Savings
Biden plans to raise taxes for people earning $400,000 or more per year and use it to increase Social Security benefits, expand the age group eligible for Medicare, and offer a tax credit to caregivers of spouses or parents. 
That focus on Social Security benefits is notable, as funds are currently expected to be exhausted by 2035. In 2021, about 70 million Americans receiving Social Security benefits will receive just a 1.3% cost-of-living increase in their benefits—the smallest increase since 2017. 
Biden's plan would increase the minimum benefit retirees can get, along with providing increases to benefits amounts for seniors between ages 78 and 82. 
Biden has proposed making changes to retirement savings to benefit low- and middle-income workers. Currently, if you're in a higher tax bracket, you get a bigger tax deduction than someone at a lower tax bracket who puts the same exact amount of money into a company-sponsored 401(k) plan. Policy experts anticipate that the Biden administration will try to replace the current tax-deduction structure with a flat tax credit. 
Doing so could simplify deduction calculations and also encourage more people to save: Only about 60% of people who make between $50,000 and $75,000 a year contribute to a retirement plan, according to the Tax Foundation.
Reforming Capital Gains Taxes and Estate Planning
Biden has proposed adjusting or eliminating what's called "step-up in basis," a provision that can come in handy for people planning to pass their portfolios down to their children. Rather than basing capital gains taxes on the original cost of your assets, the basis gets reset to the new value. That reset can eliminate or drastically reduce the amount of capital gains taxes your heir pays if they sell your assets. 
By eliminating or changing the provision, high-level investors and their families could be faced with considerable capital gains taxes (taxes on the profits when you sell an asset). That's in addition to Biden calling for taxing long-term capital gains like regular income, which would raise the top rate from 20% to nearly 40% for the highest earners.  
But Biden's tax plans are ambitious, and with a closely divided Senate, it may be harder for tax legislation to find support in the Senate. Plus, experts say that eliminating the step-up in basis provision would be a paperwork nightmare.
Making College Cheaper and Tackling Student Loan Debt
Biden and Harris have been vocal about their plans to make college more affordable by making two years of post-secondary education free, whether it be community college, trade school or other job training programs. Biden has also proposed making public colleges and universities free for families earning less than $125,000 per year.
But before the Biden administration can get to those policy plans, he'll have to handle the ongoing Covid-19 crisis and its impact on student loan borrowers. 
Biden has already directed the Department of Education to extend the federal student loan repayment forbearance period until Sep. 30, 2021. But it's unclear what will happen to borrowers when those forbearance plans expire. And private loan borrowers have had to work with their lenders to adjust their repayment plans, as private lenders haven't been required to provide relief.
Before Biden's inauguration, there was chatter in Washington about student loan debt cancellation. And while Biden's aides insist he is still in support of canceling $10,000 in student loan debt for Americans, such a provision was left out of Biden's stimulus plan.
Biden wants to simplify the many repayment options for federal student loans. Implementing those new provisions, which include capping monthly payments at 5% of discretionary income and loan forgiveness after 20 years of qualifying payments, could be on his priority list for student loan reform once the pandemic is under control. 
Defending and Reforming the Affordable Care Act
The Supreme Court will begin to consider this month whether the Affordable Care Act is unconstitutional. That argument stems from Trump's elimination of the individual mandate—the penalty you had to pay if you didn't sign up  for a health care plan. 
But Biden is ready for that challenge, with a new version of the ACA he's calling "Bidencare" (the sequel to Obamacare). The new version would have an individual mandate but would also include new options for people seeking insurance, including an affordable plan similar to Medicare. 
Plus, Biden has enlisted Xavier Becerra, a previous California Representative and current Attorney General of California, to serve as Secretary of Health and Human Services. Becerra has long supported expanding health care in the U.S., and played a pivotal role in drafting the ACA. Becerra will likely welcome improvements to the existing ACA plan, and has already voiced approval for a single-payer health care system in the U.S.
But providing health care subsidies is expensive, and Biden will need to woo the Senate in order to make headway reforming health care plans.
More from Forbes Advisor