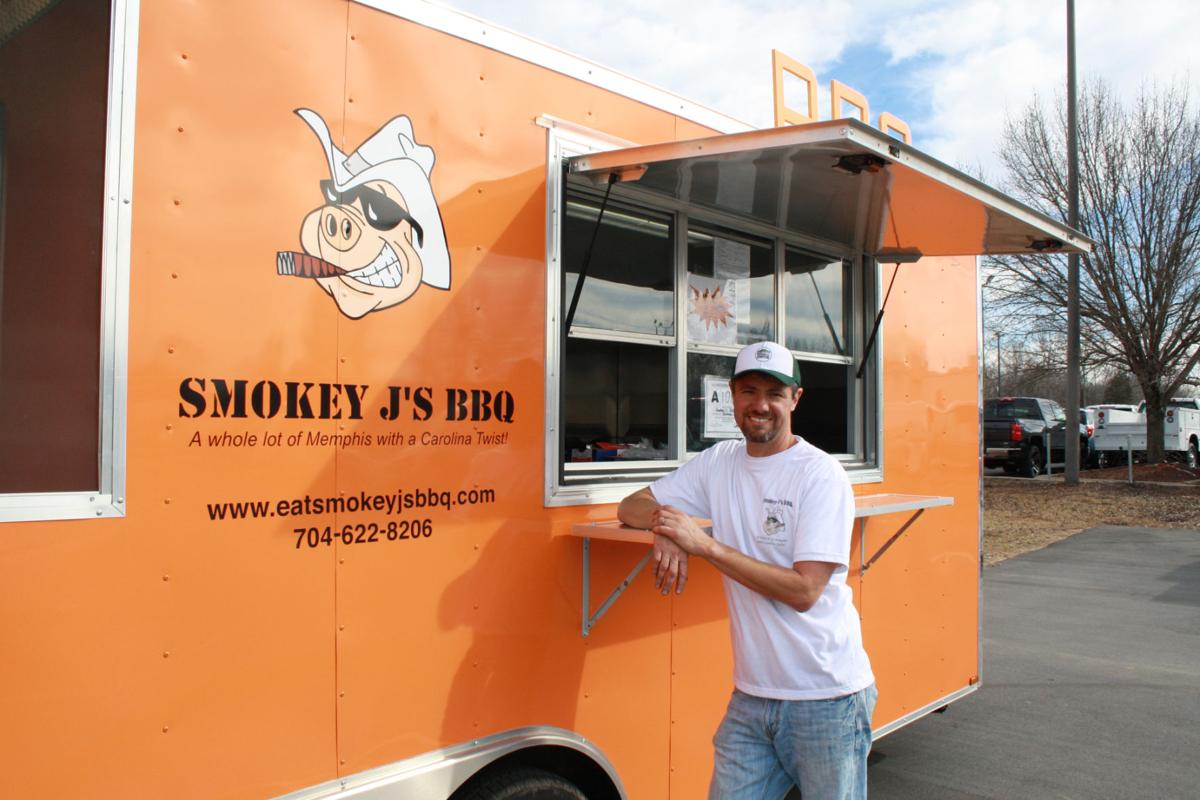 Mooresville's Jamey Lowe used to serve tennis balls for a living. Now he serves barbeque from a food truck he calls Smokey J's BBQ.
For 30 years, Lowe was a tennis pro and coach, working as the club pro at the former Point Golf Club, moving on to Skybrooke in Huntersville, then eventually coming back to Trump National Golf Club. And in the meanwhile, he added Pit Master to his titles.
In 2000, Lowe took up cooking barbeque after meeting the father of his future wife, Amy. Joel Laney was an amateur pit master in Memphis, and he taught Lowe the tricks of barbecue trade.
"After eating (his barbeque) I asked him to teach me everything he knew," Lowe recalled. "We started off doing some competitions and we did really well in that. Then we started feeding the neighbors and they asked when I was going to start selling this."
His first catering job soon led to one where he had to feed a couple hundred people, and after getting positive feedback he decided to continue catering off and on for private parties.
But eventually Lowe became too busy to be a tennis pro and a caterer/pit master. "So I decided to choose this and got out of tennis," he said.
Lowe quit the courts last September and took up the BBQ business full-time. In October, he purchased a food truck which he currently uses to tote an outdoor smoker around town, and began selling items from his menu in November.
Smokey J's BBQ serves sandwiches and platters of pulled pork and chicken as well and what he considers as his two specials; brisket and ribs. Lowe also boasts a Memphis Style BBQ with a "Carolina twist" which he said blends the use of a dry rub in which the meat is smoked in and vinegar based barbeque sauce, which is popular in the eastern parts of North Carolina.
Lowe noted that the type of smoker he uses to cook the meat is "very efficient and insulated" making it the perfect tool for his food truck uses.
He also uses hickory and apple wood chips in the cooker to give the meat different flavors, noting that the hickory gives the meat a stronger taste while the apple gives it a fruiter taste and uses those when cooking ribs.
"I always cook the meat around 200 degrees, and do it low and slow," he said. "Brisket usually takes 14-16 hours and ribs take four to five hours."
BBQ isn't complete without a side or two. Lowe's menu has rotating seasonal sides that include macaroni and cheese, baked beans, coleslaw, Brunswick stew and banana pudding just to name a few.
Menu prices range from $3 for an individual side to $25 for a family pack that feeds four.
While his menu doesn't include hushpuppies, which is often considered a BBQ staple, Lowe said in order to have hushpuppies on the menu he would have to spend $7,000 on a new truck that would include a fryer.
When Lowe isn't selling platefuls of barbeque around town with his sidekick, Tara Fields, he's catering weddings and events. Smokey J's Catering boasts a variety of entrees not limited to southern BBQ, such as chicken marsala, lasagna, and other crowd pleasing favorites.
And although Lowe no longer teaches tennis to members of Trump National, he hasn't totally packed away his rackets. He's teaching his 7-year-old daughter, Giavonna, and 3-year-old son J.T., the basics of the game.
Meanwhile, former tennis students of his say they miss him on the court.
While Lowe was setting up for business in front of Brushy Mountain Outdoors store along Williamson Road last Friday, two former students stopped by to try out his BBQ.
Patty Graham, said she misses having him as a teacher, but noted he "makes darn good BBQ." Jeff Cooper joked that Lowe's BBQ is "much better than his tennis lessons."
Lowe estimates he feeds a couple hundred people a week, and has a lot of repeat customers at his locations. One his most popular locations is at the Coddle Creek Country Store on N.C. 3.
"I'm usually on at a location from 11 a.m. to 1:30 p.m., but (at the Coddle Creek store) I go until the food runs out," he said. "We get a lot of traffic from people who are coming home from work in the evenings at that location."