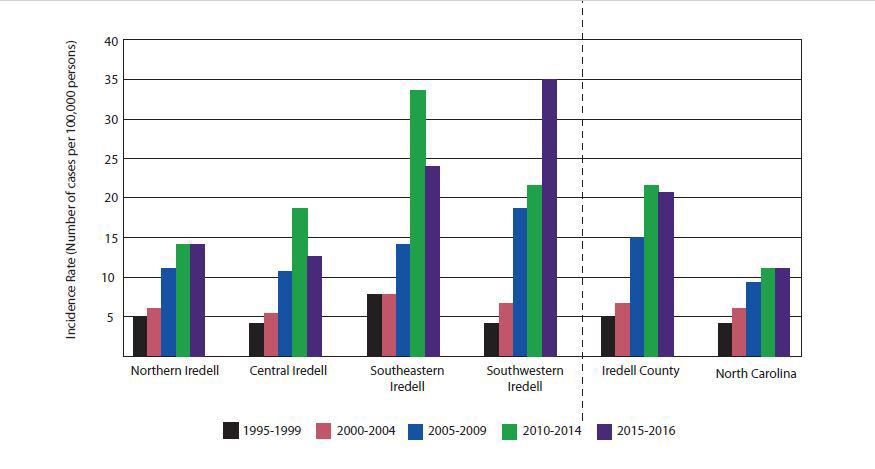 State departments and representatives as well as experts from the academic community said they can't determine an environmental cause of the elevated thyroid cancer rates in Mooresville without further research.
That announcement came at a meeting Thursday in Mooresville.
State epidemiologist Zack Moore said a health department report on thyroid cancer in Iredell County gathered information in three different areas: scientific literature, numbers from the N.C. Central Cancer Registry for thyroid cancer in Iredell County and historic monitoring data of water in Mooresville.
Last June, the Iredell County Health Department released a statement reporting a higher rate of thyroid cancer diagnoses in the 28115 and 28117 zip codes. The North Carolina Central Cancer Registry then provided data to it confirming a higher rate of thyroid cancer diagnoses in the southwestern and southeastern part of the county compared to the overall state rate during the 2005-2016 time period, according to a previous news release. 
In relation to the new report, Moore said thyroid cancer has been well studied, and radiation is the only environmental factor to have been clearly linked to thyroid cancer in scientific research.
Assistant Secretary of the Environment Sheila Holman said 15 chemicals have possible associations with thyroid cancer. The N.C. Department of Environmental Quality reviewed historic data for high levels of radiation or any of the possibly associated chemicals.
Duke Energy spokesman Bill Norton confirmed none of those chemicals are in coal ash.
Lisa Bradley, a consultant with a risk and environmental assessment company hired by Duke, said radiation levels in coal ash and any leached into water are below EPA and drinking water regulations.
She said that in regards to coal ash stored at Marshall Steam Station, there is no avenue of exposure between coal ash and the public. 
According to the report, none of the samples taken between 1998 and 2017 to monitor the McGuire Nuclear site for radiation reached limits that would trigger an investigation.
Reviewing the environmental department's water system testing data, the department could not find a common contaminant that would cause thyroid cancer. Moore said the state could not pinpoint an environmental cause of the elevated thyroid cancer rate.
According to the report, "Of over 400 cancer cluster investigations in the United States, only three investigations identified a link to an environmental risk factor and only one of these identified a risk factor that was considered a cause of the cancer cluster."
Identifying causes difficult
Moore said identifying an environmental cause is difficult for several reasons. He said the small number of cases in a year means a small change in the number creates a large change in the rate.
There can often be years between exposure to a contaminant and the appearance of a health effect, also making it hard to track causes, Moore said.
Finally, the environment surrounding a community is complicated, made up of many factors, and it can be hard to identify one cause when a number of industries, human practices and natural processes affect the community constantly, he added.
Even if a cause is not identified, Moore said reports like this one have benefits. Similar reports help identify what environmental factor the department should investigate next. The department could also find other issues of concern in the search for a cause for the high rate of thyroid cancer.
According to the report, "It is important to note that only a comprehensive research study can determine if any environmental exposures are associated with thyroid cancer diagnosis rates in Iredell County."
Moore said the health department is not a research entity. Next steps include consulting a panel of experts gathered by UNC-Chapel Hill to determine what else the department can do to identify an environmental cause. 
"We wish we were able to give something concrete," Moore said.
In 2018, the concerned mom who drew public attention to the area's high cancer rates, Susan Wind, raised money to fund research from Duke University professors.
Professor Kate Hoffman, one of the three researchers, confirmed there is a higher rate of thyroid cancer cases in Mooresville than elsewhere in the state.
Professor Heather Stapleton said water, soil and air in the area had been tested. Their research has not unveiled any conclusions yet. So far, the data indicates a contaminant of water is probably not a cause of the elevated cancer rate.
Of the soil samples taken, some samples, including one taken at Lake Norman High School, were suggestive of a coal ash relation and will take further study to confirm or deny, Stapleton said. In 2018, a structural fill of coal ash was found near the high school.
Radium is also naturally occurring in North Carolina soil.
Radon, a radioactive gas, is more likely to be found in this area, Stapleton said. Study of the air in Mooresville is preliminary. Radon is indicative of North Carolina geology, so the source may be natural, she said.
"These clusters could be driven by different variables," Stapleton said. "We should not assume the factors in both areas are the same."
Further testing of soil and air will continue to explore possible avenues of radiation exposure.
Stapleton said going forward, she hoped for better communication between researchers and the medical community. Thyroid disease and problems are risk factors of thyroid cancer, so being aware of those cases as well could help find a common cause.
"It's very hard to get all the doctors together. That was my assignment," Mooresville Dr. Michelle Stowe Ong said at an informational meeting for the Mooresville medical community. "We're all somewhat divided nowadays. My proposal is somehow, as a community, we come together on this issue going forward, so we can work together with investigators so we can find out more about what's been going on and how we can work with them going forward."
County Commissioners James Mallory and Jeffery McNeely said it's too early to rule out coal ash as a possible cause of the elevated cancer rates. They want to see a scientific study regarding local health and environmental effects of coal ash.
"Coal ash has been studied by university researchers, industry experts and government scientists for decades, and this deep knowledge base about coal ash and public health is what federal and state regulations are based on," Duke spokesperson Bill Norton said. "Our work complies with very strict air and water permits designed to keep neighbors safe."
In February, residents had the opportunity to take advantage of free well water testing from Virginia Tech and UNC-Chapel Hill.
Mallory said the elevated thyroid cancer rate in Mooresville and coal ash are two separate issues. Until scientific results prove coal ash isn't affecting the health of Iredell residents or the surrounding environment, it should be handled with caution.
"What we don't know is if there is a connection between what is in coal ash and any kind of cancer. We don't know how ash affects the environment whether it's in the water or airborne," Mallory said. "Because we don't know what we don't know, we feel the safest option is to put the coal ash in a lined, capped landfill where it can't become air- or waterborne.
Commissioners unanimously approved a resolution supporting the complete excavation of coal ash at Marshall Steam Station in February.
Sen. Vickie Sawyer filed a bill Wednesday proposing a panel to study all kinds of cancer clusters throughout North Carolina.
Sawyer said she plans to file a bill in April that would require a liner in any fill of coal ash, no matter the size. Currently, fills less than 8,000 cubic tons aren't required to have a liner.
Using coal ash as fill has fallen to the wayside, but several fills are located in Mooresville.  
Wind, the woman who raised awareness of high thyroid cancer rates in Mooresville said she was leaving the research to the experts. While she was initially involved in gathering data, she handed that over to the Duke professors when they started their research. 
"For those of you who live here in Iredell County, I want to make sure it's safe for your children because I needed to know it's safe for my other children because my oldest daughter, as you know, got cancer," Wind said. "I did not do this, honestly, to cause trouble for the community or to hurt your property values. I did this because I thought, 'We need to come together and fix this.'"