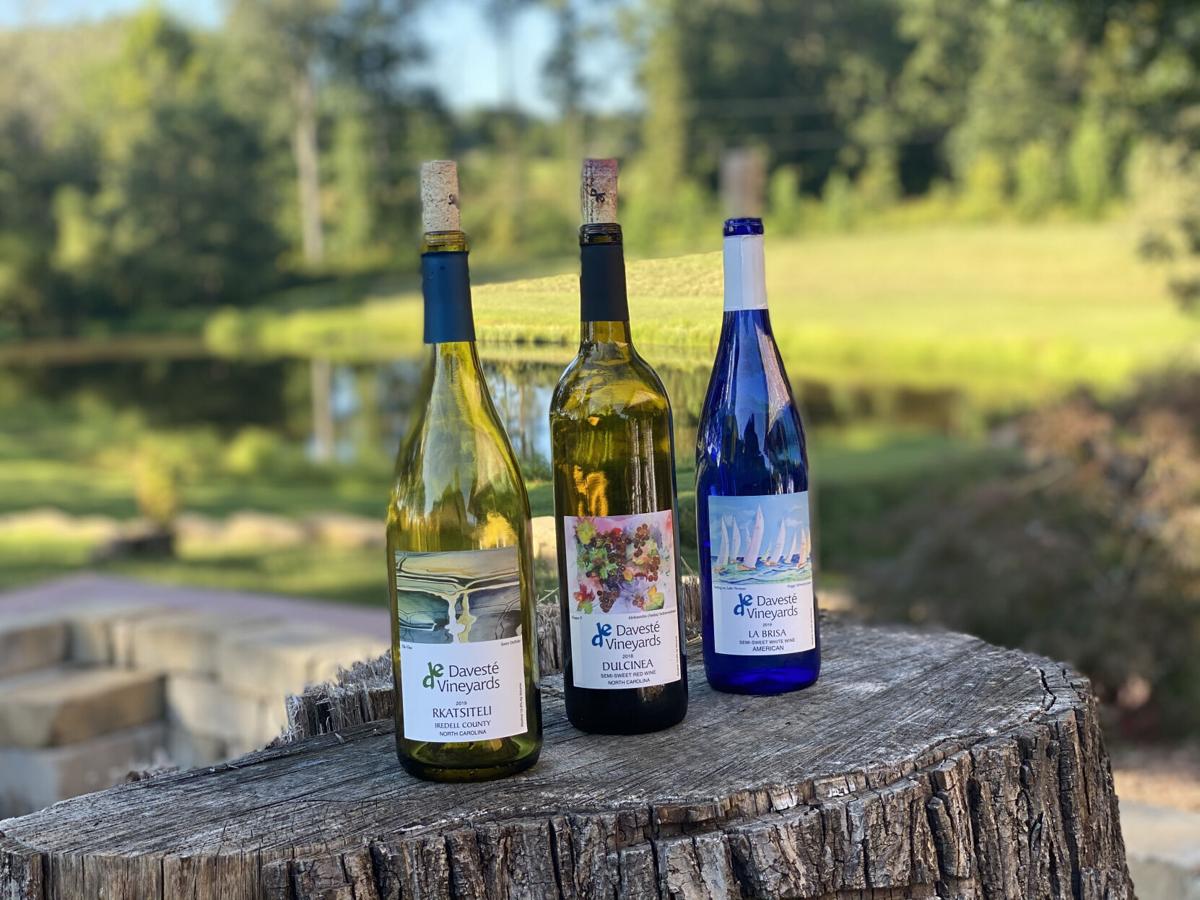 On a sun soaked, autumn evening, the sounds of happy conversation and clinking glass can be heard by people spread out safely across a 52-acre vineyard. The sounds of a calming waterfall can be heard in the distance with the live music just moments away from starting.
A scene like this is normally isn't associated with Iredell County. Maybe in the mountains, perhaps, at a particularly well-known vineyard in Asheville.
However, a moment like that can be experienced closer to home than you would think — in Troutman.
Tucked away in a quiet, rural part of the ever-growing town of Troutman is Davesté Vineyards, a "boutique" vineyard that leaves you wondering how a place like that could be located just a half mile from Perth Road and just over 2.5 miles from I-77.
"It's kind of like Greater Charlotte's best-kept secret," Caroline Carrick, a business partner at the vineyard, said. "It's crazy to me how many people have never been here that live right down the road."
Davesté Vineyard is tucked away on Lytton Farm Road in Troutman, just far enough away from the bustle of Main Street and Perth Road that anyone who visits can forget about the rest of the world for an evening.
As many people are surprised to find the vineyard there, it comes as no surprise that those same people would also have no idea it has been there for over a decade. The vineyard began construction in 2005 and was completed three years later. Their founders, Dave and Esté Depehr remain as committed now to creating fine wines as they did 12 years ago.
Their pride-and-joy, claim-to-fame wine is their Rkatsiteli white wine. The rkatsiteli grape originates from eastern Europe and is not commonly grown in the United States. As a matter of fact, Davesté was the first vineyard to ever plant it in North Carolina.
"It's a dry white, very clean," Carrick said. "Sauvignon Blanc lovers like it. It's also slightly unusual and exotic because it's not widely produced in this country."
However, according to Carrick, while it is not common in this country, the rkatsiteli grape is the 16th most commonly grown grape in the world.
Davesté also has a fairly large selection of other wines, everything from riesling to a bourbon barrel-aged red wine, their award-winning traminette that is grown on the estate and a sweet red wine, the Dulcinea, that pairs extremely well with dark chocolate.
"We make small batches and handpick (the grapes)," Carrick said. "We're known for high quality wine, we're not creating to the lowest common denominator. There's plenty of that in the world."
Along with producing finely-crafted wines, Daveste also hosts weekly events to give people a much needed escape from their homes during the ongoing pandemic. Throughout the summer, weekend nights at Davesté featured live music and food trucks all while adhering to the social distancing rules put in place.
"We realized we offer the community one of the few places they could get out of the house and enjoy themselves, while still observing social distancing." Carrick said. "We encouraged people to bring their own lawn chairs and spread out. We adapted the tasting room so that customers could come in wearing masks, make purchases and then immediately take them outside to consume. Our manager Jody (Bolin) even came up with wine flight boards, which are a safe alternative to traditional tastings."
According to the vineyard, these changes and additions helped bring in a record number of visitors over the summer.
Davesté plans to continue the live music weekends through at least into the first weeks of November with bands performing on Saturday and Sunday nights from 4-8 p.m. They will also host "Jazz at the Vineyard" nights on Fridays during that same time period.
"People spread out. They can go up by the wishing tree, they can sit on the other side of the pond," Carrick said. "They can REALLY socially distance themselves."
There isn't anywhere on the property that a group could sit and not be surrounded by nature. The Wishing Tree that was mentioned is a big tree that sits alone in a field atop a hill across from the tasting room, far away from the common gathering areas on the vineyard, while the pond features a small, peaceful waterfall.
People are even allowed to go sit amongst the grapevines, should they choose to.
The vineyard will also begin offering guided tastings to small groups again in the coming weeks in their heated outdoor pavilion.
As the weather cools off, they will begin hosting wine education events as well as "blending" classes where they allow participants to blend their own Bordeaux-style wine in the barrel room.
"I think we've learned so much from this," Carrick said of operating during the pandemic. "In a way, what we did was give the customers what they asked for. There's just something about music and wine. People love it, so we're going to give it to them."
Currently, the vineyard is open Thursday-Sunday from 12-8 p.m. Visit their website, www.davestevineyards.com, or call their "Wine Hotline" at 704-528-3882 for more information on wine availability and events.
Be the first to know
Get local news delivered to your inbox!