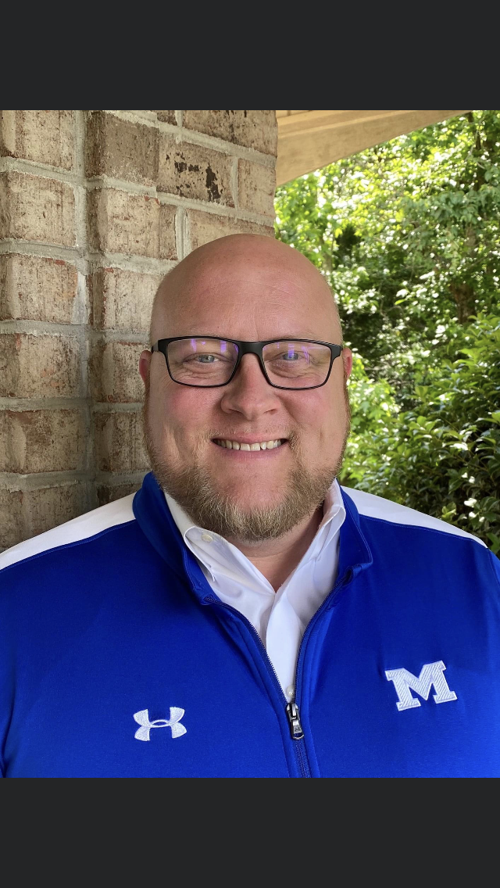 The Blue Devils will welcome a new principal for the 2020-21 school year.
Luke Brown, principal of Salisbury High School in the Rowan-Salisbury Schools District since 2014, has been appointed principal of Mooresville High School.
The MGSD Board of Education approved Brown's appointment June 9 and Brown said he will start the job by the second week in July.
"I'd like to make sure everyone in Mooresville knows how excited I am to get started," said Brown. "I'm looking forward to getting to meet the community and represent them and serve them. I'm really looking forward to meeting the kids. I hope we get to to do that sooner rather than later."
Brown will replace current MHS Principal Eric Schwarzenegger, who led his last commencement ceremony June 13 to honor the Class of 2020 graduates whose year was cut short by the COVID-19 pandemic.
Schwarzenegger said he is taking a school administration position in the Frederick County Public Schools system in Frederick County, Maryland. The FCPS web site shows Schwarzenegger will begin July 1 as principal at Middletown High School in Middletown, Maryland. Schwarzenegger has served as principal at MHS for the past three years with an additional year as an assistant principal at the school, he said.
Brown, 42, said he wasn't looking to change jobs but when a friend told him of the position at MHS, he and his wife talked and they decided he should apply. He interviewed virtually before a panel and then with MGSD Superintendent Stephen Mauney.
"Mooresville High School and the prestige of that district and the leadership they've had in the state with innovation and education, it was just a dream come true job," Brown said. "I'm super excited for the opportunity."
Brown grew up in Randolph County where he was heavily influenced by his parents, who sang in their church choir. Brown's father also sang in a traveling gospel quartet. In the sixth grade, Brown joined his church orchestra as a trumpet player. "That kind of catapulted me into that love for music," he said.
When Brown was injured playing football in high school, he turned to music even more and later received his bachelor's degree in music education with a minor in trumpet performance from Western Carolina University. Upon graduation, he took a job back home as the band director at Eastern Randolph High School where he worked for eight years.
He also holds a master's degree in educational leadership from the University of Phoenix which allowed him to take the position of assistant principal at Trinity High School in Randolph County in 2009.
In 2014, Brown accepted the position of principal of Salisbury High School where he has been ever since. He was a finalist for the RSS Principal of the Year from 2018-20.
Brown is eager to get on the job at Mooresville High School, a school roughly twice the size of Salisbury High School, he said.
The ongoing COVID-19 pandemic is the biggest challenge Brown foresees for the upcoming school year, he said. Brown is a hands-on administrator who likes to be in the hallways talking and getting to know the students by name.
"I like to know something about my students so I can make a connection with them so they feel comfortable coming to me when they need something," said Brown.
If COVID-19 prevents face-to-face interaction with not only students, but teachers and administrators, Brown will have to plan on building those relationships from a distance.
"I feel like whatever scenario comes about that we have a good plan and we'll be able to meet the needs of students," said Brown.
Be the first to know
Get local news delivered to your inbox!