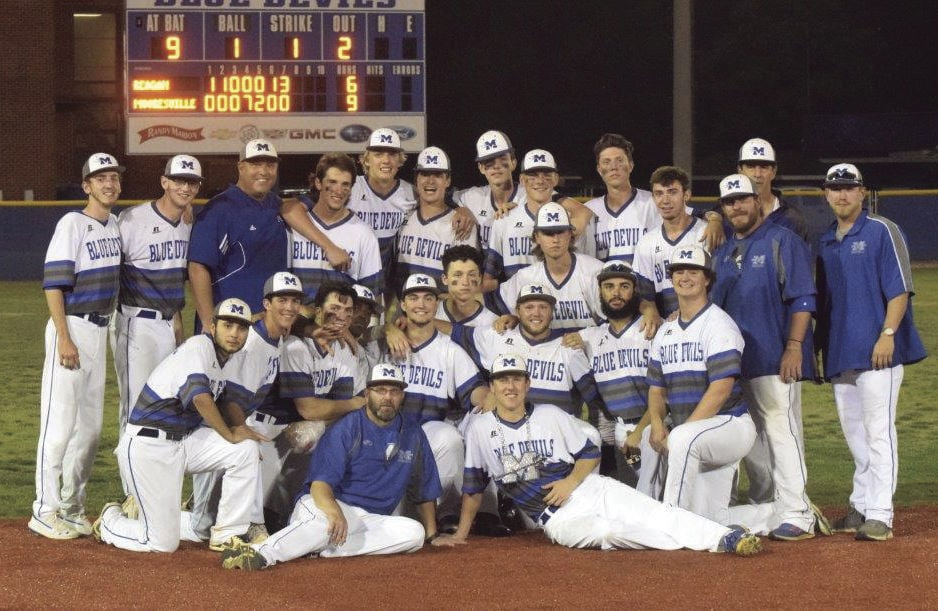 MOORESVILLE - Strike two.
Mooresville High School's baseball team didn't need to face a third pitch to reach the highest podium perch ever in program history.
The Blue Devils hit a home run in just two, sweeping Reagan. A 9-6 win Wednesday sealed their trip to the state finals.
In front of a boisterous supportive overflowing home crowd Wednesday night, the Devils erupted for seven runs in the home half of the pivotal fourth inning. That for all practical purposes – despite some anxious moments late – set them on sail towards a first-ever appearance in the N.C. High School Athletic Association's baseball state championship series. This comes regardless of classification.
The win allowed No. 11 Mooresville (22-9 for the season overall) to successfully sweep best-of-three-games series against the eighth-seeded Reagan Raiders (21-7) by a 2-0 tally. This stretches the current season's best winning streak to six straight games.
Mooresville will tote the shiny West Region crown into the state championship series May 31-June 1 at a yet-to-be-determined location and starting times.
"Boy oh boy,'' said Jeff Burchett, Mooresville's 21 st -season head coach, still relishing the refreshing after-math of a post-game water cooler bath supplied by his team members. "It's such a joy to be able to join these guys in this kind of a celebration. It definitely hasn't sunk in yet, and I'm not sure when it really will. This is a first time for all of us. We're savoring every single second."
The Devils trimmed their well-bitten fingernails to near nubs during the late phases of play.
Fueled by the seven-run uprising in the home half of the fourth, Mooresville carried a 9-3 cushion into the top half of the seventh. Two relief pitchers and three runs later, and with the potential tying runner waiting in the on-deck circle, a grounder to MHS senior third baseman John Faulkenberry – also a hitting hero – resulted in a routine force out that set off the not-so-routine victory party.
" Yes,'' said a relieved Burchett, "it got a little nerve-racking there at the end. But hey, the bottom line is that we pulled it off. You have to believe, and we had faith that our guys would make the play. It doesn't get much better than this."
Starting MHS pitcher Nick Merriman, a sophomore lefthander, departed the stage with one out in seventh. He then joined his teammates in nervously awaiting the final outcome. Merriman allowed three runs on six hits while accounting for all but one of the staff's seven strikeouts. In relief, senior Parker Manglass struck out the first hitter he faced before allowing three runs on a hit while walking two. Senior bullpen closer Jackson Reid recovered from hitting the first Reagan hitter he met to induce the game-ending ground ball.
"For the most part,'' said Burchett, "our pitching was great. Nick didn't start off with some of his best stuff, but he dodged some trouble with some big pitches when we needed them. We let some nerves get to us a little bit in the seventh, but that is to be expected. We settled down and got that last out."
Merriman collected the win, while Reid registered the save.
Offensively, Mooresville made the biggest noise in the fourth. After spotting Reagan solo runs each in the first and second innings, the Blue Devils retaliated.
Junior first baseman Cameron Clonch clobbered a three-run-home run well over Mooresville's blue monster wall in right centerfield for the biggest blow of the charge. Teammate senior outfielder Tafton Hensley connected on a two-run producing triple in the same frame. Senior outfielder Quin Ferguson's double started the rally.
Merriman's bloop single driving in another run allowed the Devils to hit for the cycle. Senior shortstop Blake Burchett, son of Mooresville's head coach, worked a walk with the bases loaded that also plated a run. Trevor McHouell, ninth in the batting order, also contributed a fielder's choice grounder that plated a run.
"Once I got the RBI, I knew we were going to have a big inning," Merriman said. "And then Cam Clonch came up with that three-run home run, and we were up 7-2. At that point I knew I had to just throw my best. And if I kept putting zeros on the board, I knew we would hang in there and we did throughout the game."
That offensive outburst gave the Blue Devils some breathing room.
"That inning took a lot of pressure off us," said Burchett. "It's been like that a lot recently. A lot of different players are coming through for us at big times."
After allowing a third Reagan run in the top of the sixth, the Devils added another – and as it turned out welcome – sigh of relief with the plating of two more runs in the last of the inning.
Faulkenberry, the seventh-place hitter, piled up three hits to captain the charge. Ferguson clothes-lined a solo home run down the first base line for his second hit – both of them good for extra bases – in the game as well. Senior outfielder Jackson Brant also added a base knock to the cause.
Mooresville will take on either East Region finalists Holly Springs or Corinth Holders in the NCHSAA 4A state finals series. Those teams were scheduled to play Thursday night. Results from that game were not available in time for Friday's edition.
Jay Spivey of the Winston-Salem Journal contributed to this story.
Be the first to know
Get local news delivered to your inbox!