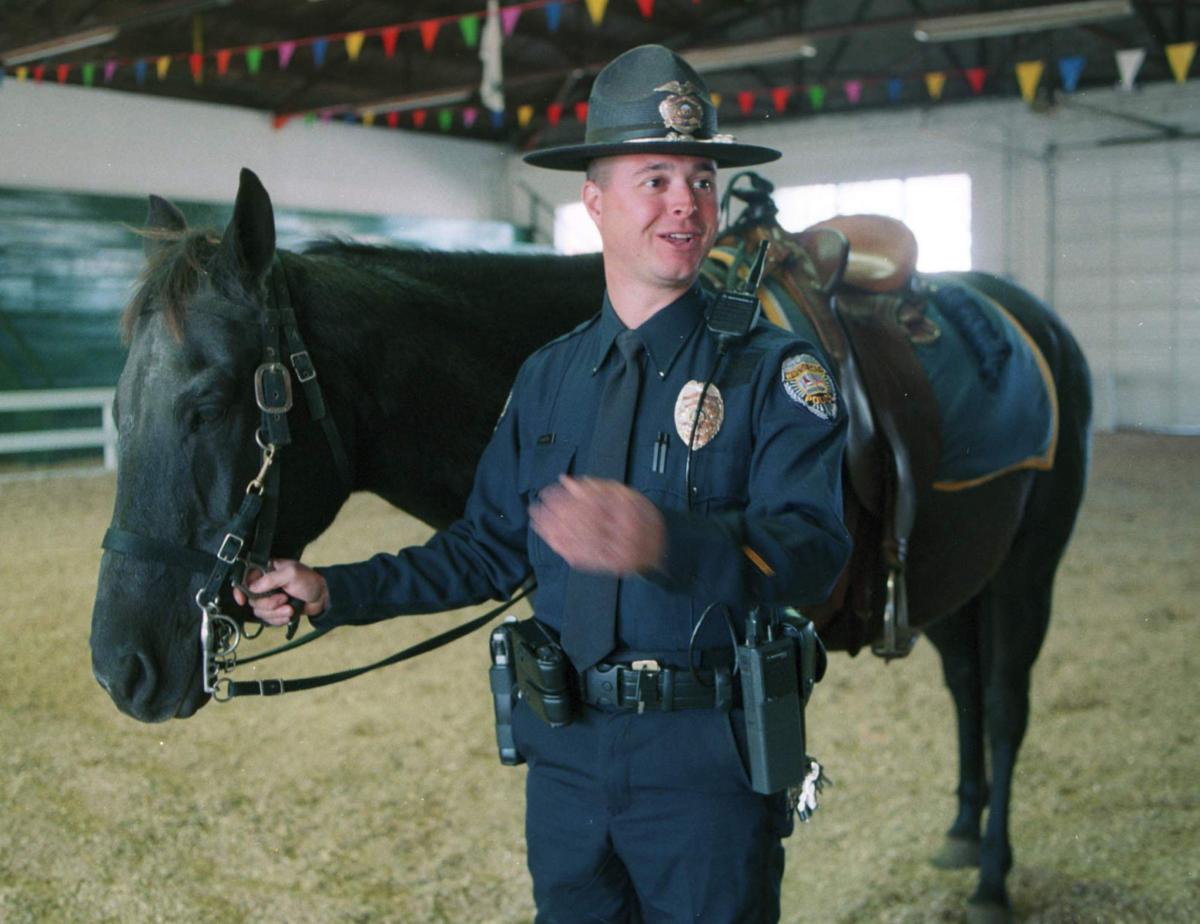 Police officers patrolling from the back of a horse can look over a crowd more easily than an officer on foot or in a car, Winston-Salem Police Chief Catrina Thompson is saying.
Officers on a horse can gallop down a recreational trail with ease and make it to some remote spot. They decrease crime because would-be perpetrators can tell they will be more easily detected, she said.
Northwest Ward Council Member Jeff MacIntosh adds another reason to bring mounted patrols back: They're cool.
"Let's do it!" MacIntosh told City Manager Lee Garrity in an email, after reading Thompson's report on mounted patrols. "We'll get our start-up costs back in free publicity if we play it right. Also, let's not overlook the 'Trojan horse' aspect of getting some additional park rangers or downtown officers in the bargain."
MacIntosh said he's no horse buff, but that he passed the idea on to Garrity, and thus to Thompson, after it was mentioned to him by police officers and others.
"I would love to say it is my idea," MacIntosh said. "I am the one that put it in the spotlight. They are exceptionally good crowd control. They offer the right amount of presence in a non-threatening way. So they are a sort of force multiplier. 
"People love them," he added. "Everywhere I have been, people are drawn to them like magnets."
The city is still a long way away from bring back horse patrols, city officials say. But they are looking at the idea. 
In her report, Thompson says it would take about $120,000 to get a four-man — and four-horse — patrol going, not counting the salaries of the officers.
Once up and running, annual costs would be $37,200: About $25,000 to board and feed the horses, and another $12,000 for veterinary care and shoeing the horses.
The startup costs include $32,000 for four draft cross horses, $45,000 for a truck with towing equipment, $27,000 for a four-stall horse trailer, about $9,000 for tack and about $4,500 for uniforms.
Thompson calls the benefits of having a horse patrol "immeasurable."
"Until recently, the most overlooked attribute of a mounted patrol is their community contacts," Thompson wrote. "Citizens of all ages are intrigued and eager to engage uniformed officers on horseback. Be it the love of animals or the novelty of officers on horseback, a mounted patrol officer draws people to strike up a conversation with an officer that may normally bypass any interaction. This builds positive community relationships and positive police interactions."
Thompson cites more concrete benefits as well: Besides allowing patrols on greenways such as Muddy Creek or Salem Lake trails, mounted officers can better engage in search and rescue missions over difficult terrain.
In a crowd, she said, a mounted officer gets an elevated view that robs a would-be perpetrator of the anonymity of a crowd. And mounted officers are good for crowd control, she said, being able to disperse unruly crowds with techniques that minimize injuries to both officers and citizens.
The city last had a mounted officer in 1999. That year, the city auctioned off Shadow, the last horse of the patrol. An article in the Journal said that Shadow had helped control crowds at the Dixie Classic Fair, nudging people out of the way and breaking up fights. Shadow had galloped up on people rolling joints in Washington Park. 
The officer who rode Shadow said he had patrolled the grounds of public housing complexes and stopped to let children pet the first horse they'd ever encountered up close.
Shadow and the other horses — there were four, originally — were brought in in the late 1980s as part of the community policing philosophy.
By the time the patrols ended, police had already decided that the cost and benefits of mounted patrols could be better managed with officers on bikes. The bike patrol started in 1985.
Sgt. Kevin Bowers of the bike patrol said that if horses come back, he'll stick to his bike. But he does see a mounted patrol as a good thing to have.
"I know that presence-wise for crowd control they are supposed to be a fantastic tool," he said. "I don't believe currently any of us are horse folks."
No one's talking about eliminating bikes to make way for horses, but Garrity said the city does have to look at the budgetary issues in a time when concerns over gun violence have mounted.
"The police department prepared a report of what it would cost to get back into the horse business," Garrity said. "The budget office was already studying the bike patrol. I have asked them to look at a mounted patrol too (including) what other cities are doing."
In North Carolina, only Raleigh and Wilmington have mounted patrols, MacIntosh said.
"I don't think we're talking about a big herd, but it would shed some positive light on the city," he said.
Jason Thiel, the president of the Downtown Winston-Salem Partnership, said that he thinks a horse patrol downtown would get a positive reaction from people, but he wants to make sure horses wouldn't come at the expense of bikes.
"When I was in college we had them in Philadelphia," Thiel said. "We saw them at night when the bars closed up late, and also during events for crowd control. You definitely felt they were able to see things a lot better because they were higher up and able to clear a path."
Garrity said horse patrols, if they come back at all, wouldn't be back until the end of 2020 because of the way the budgeting cycle works. 
MacIntosh swore he wasn't going for a pun when he commented on how the mounted patrol concept might fare:
"I don't think there will be any nay-sayers other than those with a particular concern for costs," he said.