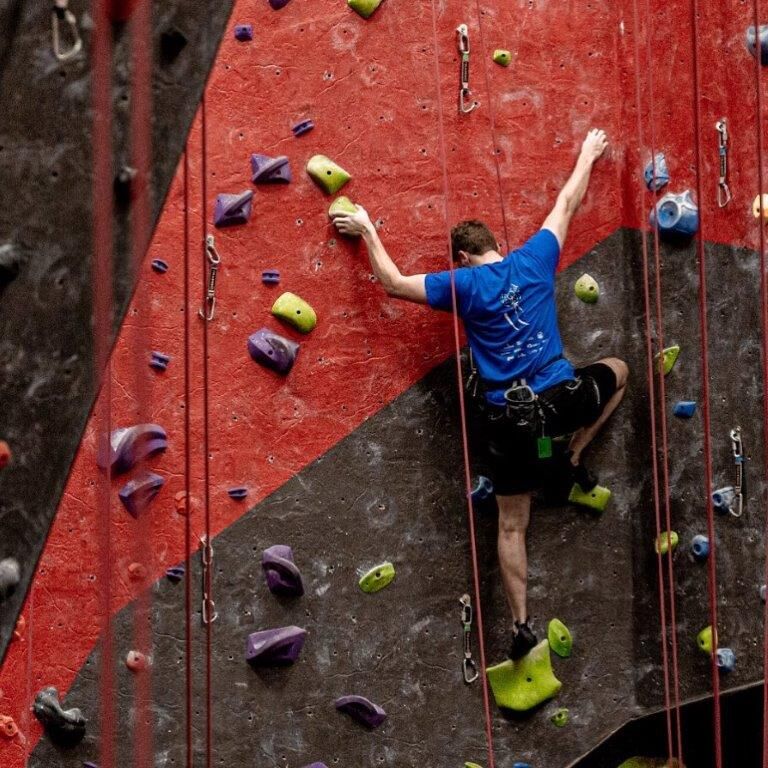 Like living life on the ledge?
Mooresville has just the place to keep its customers on their toes and on the edge of their fingertips.
Cliff Hangers Climbing and Fitness Gym is a state-of-the-art indoor facility that provides the passion of challenging users to reach new heights with the offerings of introductory classes as well as speed climbing and caters to those of all ages and levels of experience.
It even has a center in place for those desiring a much more ground-oriented and slower pace.
Cliff Hangers, which made its debut in October 2016, offers a variety of climbing walls that suits practically the needs of all wishing to attend.
The facility located at 326 Oates Road in Mooresville, is now back in operation after being closed temporarily due the coronavirus pandemic. In keeping in place protocols related to the health and well-being of all practitioners, safety measures remain in place.
Although operating at regular hours throughout the week, reservations remain required. All present mush also wear facial masks, adhere to the six-foot distance requirements, engage in regular sanitizing, show no symptoms of COVID-19 and make use of only liquid chalk when assisting in the climbing efforts.
And when it comes to climbing, Cliff Hangers has quite the collection to choose from for those engaging in the activity.
Before participating, all climbers must agree to waivers that free the facility from liability in the case of any accident that might take place. All users 17 years of age and under must have waivers signed by a legal guardian.
Climbers have their pick of a litter full of walls from which to choose. Walls stand as much as 50-foot tall and consist of all forms and styles of climbing. The various walls feature all forms of angles and articulation as well as degrees of difficulty based on the desires of those doing the climbing.
While most of the walls provide individual-based challenges, there is also one wall that caters to speed-climbing competition between the multiple climbers at the same time to add to the experience.
There is also an outdoor wall for those wishing to take their talents to that extreme.
One area also caters to those desiring to rappel from a number of different heights.
A training area is in place in order to help acquaint some first-time climbers with the various skills and techniques required to have for the activity.
Various types of climbing are offered and each includes their own particulars when being employed. Some are free from the use of safety ropes and harnesses while others come complete with the safety measures securely in place.
Users are encouraged to don athletic and/or flexible clothing when visiting the site. While sneakers are accepted as foot wear, climbing shoes are recommended. The facility offers shoe rentals for those in need.
All guests will undergo orientations upon arrival to reveal the amount of climbing experience before being allowed to engage in activity on any of the walls.
Climbing classes are also offered for those desiring to enhance and improve on their skills.
For those desiring a much more leisurely pace, Cliff Hangers also offers a variety of yoga classes that take place in a designated area of the facility.
Cost of attending is $19 each for individual day passes for all climbers age 13 and above and $15 each for those 12 and under. Passes are valid for the entire day. Users are free to leave the premises and return when displaying a pass.
Reservations are also available for birthday parties and group events.
Current operating hours are from noon until 8 p.m. Sundays and Mondays, 11 a.m. until 8 p.m. Tuesdays through Fridays, and from 10 a.m. until 8 p.m. on Saturdays.
Be the first to know
Get local news delivered to your inbox!