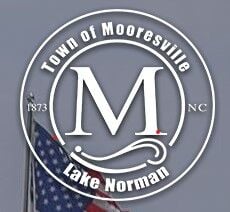 The Mooresville Board of Commissioners on Monday denied in a 6-0 vote a request for 28 acres of property adjacent to the Atwater Landing subdivision to be annexed into the town and to connect to town utilities. Commissioners felt the plans for a proposed single-family residential neighborhood to be built on the forested land off Fern Hill Road was too great a strain on the towns' current water, sewer and fire protection services.
Transportation Planner Erika Martin said the proposed property would be located at the northern most point of the town's limits if annexed. Utilities Director Allison Kraft said any development on that side of town must go through a series of pump stations and would increase strain on the current system. If the site were to develop, another pump station or force main would be required, Martin said. The Atwater subdivision is already one cluster of customers at the end of a long pipeline and Kraft said it is her department's preference to move outwards in a more orderly fashion.
Commissioner Lisa Qualls compared the Fern Hill property to being the top of a round lollipop. "Instead of making the lollipop bigger, we need to make the stem bigger," Qualls said, to which Kraft agreed.
Additionally, continual building in this area may require a new fire station to maintain the current level of service as this location would be outside the fire department's four minute response time, Martin said.
Commissioner Thurman Houston said the construction of another fire station to cover the needs of one subdivision would put too great a stress on current taxpayers. Commissioner Gary West said the board relied on department heads to tell them whether the town can adequately service an area and that he was hearing too much concern from these department heads. West then motioned to deny the voluntary annexation and utility extension requests with the rest of the board voting in agreement. Since the board denied these requests, a subsequent zoning establishment request by the Jeffrey Montie Revocable Trust for a Single-Family Residential-3, or R-3, designation was not heard Monday.
In other business, the board unanimously approved a voluntary annexation and utility extension request from the Lina Gilbert Fisher Estate for 13 acres of property at 164 and 172 Rocky River Road and, in a 5-1 vote, approved a Single-Family Residential-3, or R-3, zoning establishment for the property. The applicant, RII Company, LLC, initially sought a Corridor Mixed Use, or CMX, zoning designation to build a 60-lot subdivision on the property. The number of single-family homes would not require a transportation impact analysis, said applicant Doug Johnson. Johnson said he sought a CMX zoning designation because it made the most sense because the property is located between the Curtis Pond subdivision, zoned Residential 5, or, R-5,; Johnson Manor, zoned Residential Mixed Use, or RMX, and the Rocky River Promenade, zoned CMX,.
Commissioners seemed concerned about the potential for traffic on Rocky River Road, a state-maintained road not programmed for improvements. Two nearby residents of the proposed project asked the board to take more time considering it as they felt that portion of Rocky River Road is located on a dangerous curve where many wrecks have happened.
Instead of a CMX zoning designation, Commissioner Eddie Dingler made a motion to establish an R-3 designation which was seconded by West. Commissioner Barbara Whittington voted against the motion which ultimately passed in a 5-1 vote.
In other business, the board, in a 5-1 vote, approved an R-3 zoning establishment for 24 acres located at 106 Summer Pines Lane just north of the Meadows at Coddle Creek subdivision and within a few miles of Mooresville Middle, Mooresville Intermediate and Rocky River Elementary schools. A spokesman for Sequoia Forest, LLC, who is representing landowners Sandra Johnson and Gary Bowles, said the company would like to build 66 units at just over three dwelling units per acre, which would require an R-5 zoning establishment. Town documents indicate the units would be town homes or duplexes, or medium to high density residential units. The land prohibits a higher density due to a sewer easement and a creek running through the property, the spokesman said.
Commissioners expressed concern over traffic issues and the fact if the property was zoned R-5, the town would be unable to condition what was eventually built there. An R-3 zoning establishment was motioned and approved in a 5-1 vote with Whittington opposing it.
The board also unanimously approved an amendment to transfer $6.5 million from the Capital Reserve Fund to partially fund construction of the Liberty Park Phase II project and the Mooresville Skate Park. Ordinances in the town's Fiscal Year 2022 budget, adopted in June, allocate the expenditures for the construction of the two projects, but did not specify the funding source, said Chief Financial Officer Deborah Hockett. Of this amount, $5 million will fund Phase II renovations of Liberty Park, including the addition of new play structures, connective walking trails, a covered basketball court and an interactive water fountain. The town is rebidding the Liberty Park Phase II project on Oct. 21, said Town Manager Randy Hemann. The remaining $1.5 million will fund construction of the new Mooresville Skate Park whose features are set to include a snake run, two bowls, an urban street plaza and pump track, new restrooms and a shaded area.
Skate park construction documents have been submitted to town hall, Hemann said.
"I think both projects are well done and it's time to be completed where we can move on to other projects," said Houston. "And I'm just happy to see it come to a conclusion on these two projects. I know the citizens of Mooresville are going to be very happy about both of them."