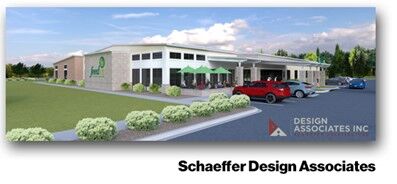 FeedNC's "Building a Bigger Table" capital campaign, which quietly launched May 1, has already exceeded $2.8 million in lead gifts toward its $5.5 million base goal. Thus far, 44 donors have responded, pledging their support for a new facility that will greatly increase FeedNC's food pantry, workforce development, and community services.
"We are so encouraged by this early response," said FeedNC Executive Director Lara Ingram. "And the wonderful work of our campaign team — especially its leaders, Sara White and Jack Donoghue."
For her part, White gives the credit to the organization's years-long planning effort. "FeedNC has invested so much in understanding the community's needs, creating programs that make a real difference, and planning a new facility that will make those programs stronger. We know, in Mooresville alone, more than 9,000 people are food-challenged. Three thousand of those who need help are children. FeedNC's donors recognize the need for this facility, the promise of it — and they want to help."
FeedNC spent several years searching for a building that could fit its growing needs. In January 2021, the nonprofit purchased an 8.54 acre site on Charlotte Highway in Mooresville, and planning activities sped forward. FeedNC staff and Facilities Committee worked with of Mooresville to develop building plans and budgets. The organization worked with to conduct a comprehensive capital feasibility study in early 2021, craft a campaign plan in March, and enlist its leadership team in April. On May 1, the Lead-Gift phase of the Capital Campaign began. 
While grateful for this early progress, Ingram is quick to point out: FeedNC has much more work ahead to realize its ambitious goals. "We break ground when we reach 75% of our base goal — $4 million — and we hope that will happen this fall. If we can meet that goal, and finish the campaign strong, we are confident we can serve our community from the new facility by the end of 2022."
FeedNC's Capital Campaign leadership fully expects to reach that goal. "Supporting FeedNC's work is a wonderful way to be a community and share what we've been blessed with," Donoghue said.
The nonprofit creates connections to food, education, and resources as a catalyst for change. Founded in 1987, FeedNC offers a food pantry four days a week and serves hundreds of families from a six-county region. To learn more about its services, its community impact, volunteer opportunities, and the "Building a Bigger Table" campaign, visit FeedNC.org.