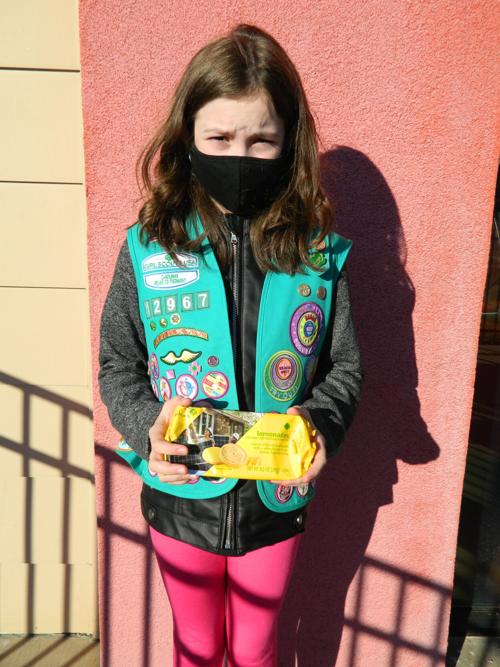 Selling Girl Scout cookies is not new. In fact, according to the cookie history portion of the Girl Scout website, it dates back to at least 1917 when scouts baked cookies and sold them for troop activities.
While the flavors of cookies available and the methods of selling them may look different, the excitement of it all as well as the scouts benefiting from the sale of these sweet treats remains the same.
Well underway in reaching her goal of 200 boxes of cookies, 10-year-old Caryss Patton of Statesville said that she has been out in her neighborhood selling cookies to help her Troop #12967 reach its goal of 2,000."
If cookies aren't sold, then the troop isn't able to go on trips," Caryss said. "The cookie money supports the trips we go on, like camping sometimes and Rescue Ranch," which they plan to visit in early February, her mother Meghan added.
Troops get a percentage of the money from cookies sales, said Meghan, who is one of the troop leaders and cookie mom, and the other goes back into the Scout Council as a whole.
Meghan, who is responsible for handing out the cookies, said with a laugh, "I have the minivan, so it just made sense for me to be in charge of the cookies."
Caryss said that she has already sold somewhere between 72-83 boxes, which is pretty much halfway to my goal already," she said.
"I chose 200 (as a goal) because there are different prizes that you can earn, and the one that was 200 packages, well, that was the one I chose."
The prize she has in sight? She has a sequined pencil pouch in mind; therefore, she has been reaching out to family members, and she said, "I have a teacher who just happens to be my neighbor, and my dad has co-workers who are actually neighbors and we sell to them."
When asked what has been her biggest seller thus far, Caryss said that "it can be different cookies, but I think it's mainly Thin Mints because we walked part of our neighborhood and Thin Mints and Caramel deLites were the ones that we ran out of fastest."
In addition to these two big sellers, there are others flavors available including Caryss' personal favorite, Lemonades, as well as Peanut Butter Patties, which are covered with fudge coating, a Peanut Butter Sandwich, Shortbread, Girl Scout S'mores, gluten free Caramel Chocolate Chip and new this year, Toast-Yay!, which is a French toast flavored cookie.
Caryss said she has been in scouting for four years and has taken part in selling cookies all of those years, learning several things in the process.
One, she said, is "if people say 'no', that they don't want to buy cookies for whatever reason, you don't want to press them and say 'oh come on and buy a box.' But you can say that you could buy a box for Operation Sweet Treat, which basically you are giving the cookies to troops in the military."
While not new, Caryss did note that lots of people haven't heard about Operation Sweet Treat unless the scouts offered that bit of information.
"I actually have a badge from 2020 about Operation Sweet Treat," she said.
Another thing Caryss said that she had learned while selling to her previous customers was that they mainly stay with the one kind of cookie they like, but sometimes they will branch out and try a new flavor. And people have that option this year with the Toast-Yay! in the cookie line-up.
Caryss said that she has a Cookie Boss Hat and that she thinks "it definitely helps to have something that says 'hey, we've got cookies because they can just walk up to you and say 'hey, do you have cookies? I want some.'
In addition to learning lessons while selling cookies, she said that scouting in general has taught her other lessons.
She thought for a moment, and said, "I'm getting better at tying knots."
Caryss said that she is also "learning archery, which is actually a badge in the cadet level. And it's always been something I've wanted to pursue," she said.
Horseback riding is something else she is learning and it's also which "I actually have a badge for. It's also something I've really wanted to do," she shared.
Girl Scouting offers lots of options to learn and when asked why she would encourage them to join, Caryss said, "depending on what they like, there are many different things to do like I said, archery and horseback riding and then you could do jewelry and there's studying the past."
There's also robotics, gardening and cooking.
"There's a lot of cooking," she said and added, "I really like virtual cooking because you have to prepare it yourself and they don't just give you the stuff, plus they give you the ingredients list and then the instructions on how to make it and then you can make it."
While she does enjoy cooking, she said she prefers baking, "because then you can make sweets."
A favorite sweet? Pie is one she expressed she likes to make. "I like the apple because we actually had to make the crust in the Junior level. But the triple chocolate wasn't that bad."
Caryss is one of 10 members of Troop #12967, which meets at Monticello United Methodist Church in Statesville. A multi-level troop, she said there were five Junior level girl scouts, three in the Brownies and two in the Daisies.
With a small group, this has helped this year both she and her mom noted, as because of COVID-19, they have to stay spread out during their in person meetings.
In addition to social distancing at meetings and some of the different selling methods, another result of COVID-19 has been that the troops have to make appointments for their scouting trips for many locations.
Another change this year, having nothing to do with the virus, but a change in the cookie line-up, Caryss added that this is the last year for the S'mores. "The S'mores flavor is sadly leaving this year," she said.