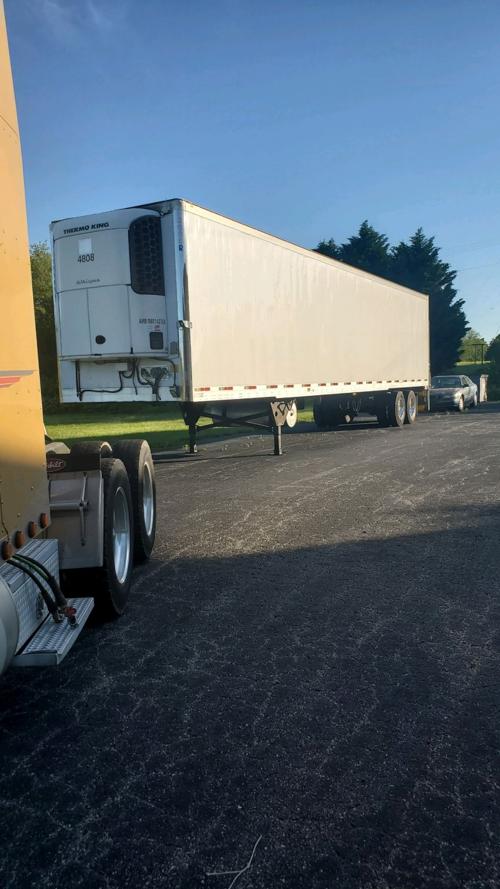 When Keith Bills read that a local nonprofit was struggling to provide food and necessities to local families, he knew he needed to act.
"It laid on my heart," he said.
With little more than an idea, he and Jason Mullins came up with a plan to collect food and other supplies for Iredell Christian Ministries. By the end of the day Monday, they'd secured the use of a 48-foot refrigerated trailer, a spot to put it to collect donations and organized a plan to deliver the donated items to ICM.
"It's been overwhelming, the outpouring of support we've gotten from the community," Mullins said.
Mullins, president of a motorcycle chapter for members of emergency services, and Bills, a member of the Red Knights Chapter 13, drew on experience planning poker runs and other fundraisers to put together this event practically overnight.
Bills said he and Mullins were among a number of Red Knights members that took part in a food drive in Rowan County last weekend. Then on Sunday, Mullins saw a story in the Record & Landmark about how food pantries across the county are struggling with an increase in need and a decrease in donations, largely due to COVID-19.
Mullins forwarded the story to Bills, who was upset to learn some families, and in particular children, might not be able to get the resources they needed. On Monday, he and Mullins launched this food donation drive.
The plan was presented to ICM president Joy Morrison in what she called a "God winks" moment. "We get those every so often," she said.
An idea to collect a few supplies quickly grew. Brandon Shives of S n S Holland, a local trucking company, donated a 48-foot refrigerated trailer to be used as a collection point. The refrigerated truck will accommodate both perishable and nonperishable donations.
And David Cook, chief at North Iredell Rescue Squad, agreed to allow the truck to be parked at the squad building at 1538 Tabor Road, Harmony.
STE Powersports at 1426 Northside Drive also jumped on board, Mullins said. The business has been supportive of many previous Red Knights' events, and this one was no different. The business is serving as a collection point for nonperishable foods.
The final part of their plan will involve delivering all of the collected items to Iredell Christian Ministries Saturday.
Beginning at 9:30 a.m. a caravan of motorcylists and motorists of all sorts will gather at STE Powersports, where any additional donations will be collected. They will leave around 10:30 a.m. for the rescue squad to get all of the donations in one place. A tractor will be provided by Shives to deliver the trailer to ICM where volunteers will unload the donations.
Marty's Pub and Grill will provide lunch, Mullins said. Details on where that lunch will be given out are still in the planning, he said.
Morrison said the donations will mean their financial resources can go to other needs, such as buying food from the Second Harvest Food Bank. "It's a wonderful, wonderful gift," she said. "We just really appreciate any food that's coming in right now."
She said ICM has seen an increase in new clients since the COVID-19 restrictions meant businesses closed or limited operations, putting people out of work. "We've leveled off this week but in the early days of this COVID-19 madness there were days when a third of our clients were brand-new to us," she said.
Not only were they providing resources for new clients, many of their volunteers were not able to come and help. "A lot of our volunteers are retired folks and they're not feeling comfortable to come in," she said. And, even if they were willing, she said, ICM is trying to keep a minimum of people working to comply with social distancing and other recommendations.
So the offer for donations and the volunteers to unload them came at an opportune moment.
Bills and Mullins said helping the community is something the Red Knights support anytime, but in the light of the financial hardships created by the pandemic, it's even more urgent now. "People who were already struggling to feed their kids are having more trouble now with kids out of school and they're using more resources," Bills said.
Mullins said donations at STE should be nonperishable food or hygiene products. Any type of food or hygiene products can be donated at the squad building between 7 a.m. and 5 p.m. through Friday. If dropping off donations, check in with the squad personnel on duty.
For Morrison, knowing these donations will be on the shelves and in the refrigerators at ICM means more families will be able to put food on their tables. She said the main needs for ICM now are most any type of food and cash. "We can buy food for 19 cents a pound at Second Harvest, so $5 buys 25 pounds of food," she said.
And, she said, the final thing that will help ICM is prayers. "Prayers for us to keep going. Prayers for all those that are affected and prayers for those that are on the front lines," she said.
This donation drive, she said, is an answer to some of the prayers at ICM. "We feel very blessed," Morrison said.
Get local news delivered to your inbox!
Subscribe to our Daily Headlines newsletter.