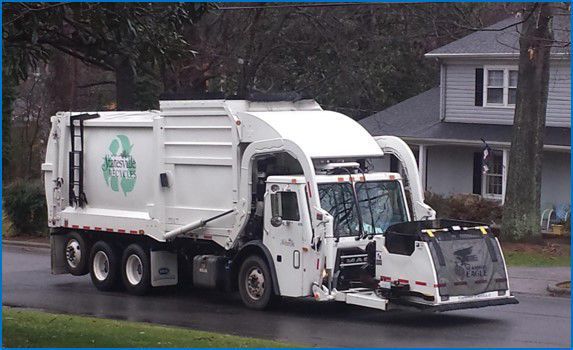 Residents of Mooresville and Statesville should no longer put glass in recycling.
Director of Public Works Derek Slocum said shifts in the recycling industry have pushed Statesville's and Mooresville's recycling provider, Benfield Sanitation Services, to stop accepting glass.
"The markets have changed globally, and Benfield has informed us and other communities that they're going to be phasing out the recycling of glass," Slocum said at a Statesville City Council meeting. "Because of those market changes, they're going to be passing on charges to their clients or municipalities, Statesville being one of them."
Benfield will start charging municipalities $20 per ton of recycling, whether or not there's glass in it. Slocum said that will cost Statesville $12,000 to $13,000 per year.
Recycling has always been free before because Benfield made a high-enough profit selling the recycled material, Slocum said.
Benfield spokesman Danny Lippard said glass has to be transported to the eastern part of the state to be recycled, and the cost of transportation is "astronomical."
Lippard said the labels on glass jars contaminate the recycled product, so it's not as valuable.
The changes in recycling are not limited to Iredell County. Other cities like Greensboro have also stopped accepting glass, and similar changes are being made across the nation. Lippard said Benfield continued recycling glass to see if a viable market would appear, but it hasn't.
The recycling industry in general has taken a hit in the past few years. China banned recycling from America, and the industry has seen a 75% decrease in the market. Lippard said one-stream recycling, where all materials are put into one bin at the household, has generated a lot of contamination in the material created after recycling.
Lippard said everything with a recycling symbol can't be recycled, but residents will put nonrecyclable material in the bin that will contaminate what can be recycled and lessen the quality of the final recycled product. Many products other than glass have been impacted as well.
Mixed paper, which combines different types of paper products like newspaper and cardboard, is worth nothing.
Lippard said of the seven types of plastic, only two are worth recycling.
Because of the trials the recycling industry is weathering right now, sanitation companies across the country have started imposing recycling fees. Lippard said other cities are paying between $75 and $125, but Benfield is striving to keep the cost low.
"I am type A recycler, No. 1," Mayor Costi Kutteh said at the meeting Dec. 16.
"I'm not putting glass in the blue bin. I'm putting it in the brown because otherwise, I'm costing our city $20 a ton for glass that's going to be taken out anyway."
Get local news delivered to your inbox!
Subscribe to our Daily Headlines newsletter.