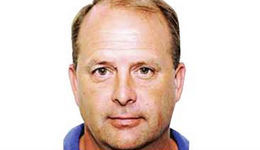 Ouch! This going to sting. And it's going to last for a while. As a trooper, I am committed to wearing it well.
It fits just like one of those treasured battle scars in place to serve as a constant reminder of a time worth remembering. It will be in plain view and most likely mentioned more times than one can count during each and every opening in a conversation for the entire coming year.
For practically all of his 34 years, first-born and only son Timothy has heard the constant bragging and rave reviews regarding his old man's annual trek some two hours west into the N.C. mountains for a welcome weekend retreat centering on and around the game of golf. Once again this past post-Labor Day holiday weekend, time arrived for the trip to take place.
This time around, in a special arrangement, young Tim-Buck immediately became by far – nearly a minimum of a decade of years at best – the youngest member of the 24-player strong group to make the yearly visit to the middle of nowhere situated in a picturesque valley to reach the prized destination. Mt. Mitchell Golf Course once again made its off-limits fairways, club-grabbing rough and sometimes-treacherous greens available for play to an aging collection of primarily area-based golfers for the traditional and aptly-named Assault.
An opening in the regular roster of players allowed son Tim the opportunity to fill a coveted by-invitation-only spot and, for the first time, help complete the crowd's scorecard.
Initially, it was designed to be a mere orientation of what to expect in the future pending the unlikely case that he will allowed by his mom – who had desired that he was never so attracted to the game -- as well as his wife – reluctantly agreeing to be without his presence for a few days -- and 3-year-old son – confused over why his "Da-Da" could drive away in his new truck with an empty car seat – to return.
As it turned out, it was a tattoo-making mark on his supposedly more-experienced passenger seat traveling companion's bald-headed ego.
Practically without warning, it was as though the veteran member of the club-swinging pair had never before drawn a club out of the bag. A struggling two-over-par tally on the opening hole of individual stroke play provided an omen of what was to follow. Without going into detail for the sake of saving space and some additional embarrassment, the once-again shoving to the right side of the hole on a four-foot potential par-saving putt on the 18th green sealed the shoulder-slumping deal on a single-stroke defeat suffered at the hands of the younger gun. The final tally hardly had time to be totaled before the outcome was posted on social media for all to see.
For Timothy's sake, it was a solid showing in his Assault debut. On a drive he hammered in front of a gallery during the course of the first-day afternoon's round of captain's choice play, he reached the course's opening-par-four hole played – as allowed – from the most forward tees that drew a round of awe and applause from witnesses. It served to secure his status as an Assault apprentice.
Weather reared its ugly head and wound up dumping in excess of four inches of rainfall within a less than 24-hour period onto an already drenched Mt. Mitchell course that forced the scheduled two-day and planned 54-hole affair to be drastically reduced. A lamented decision to navigate back down the twisting, turning route back home in the dark fog of a more-than-drizzle caused some anxious moments but in no way dampened the overall imprint. It will be in place for all to see until an attempt will be made to erase it a year from now.
Get local news delivered to your inbox!
Subscribe to our Daily Headlines newsletter.