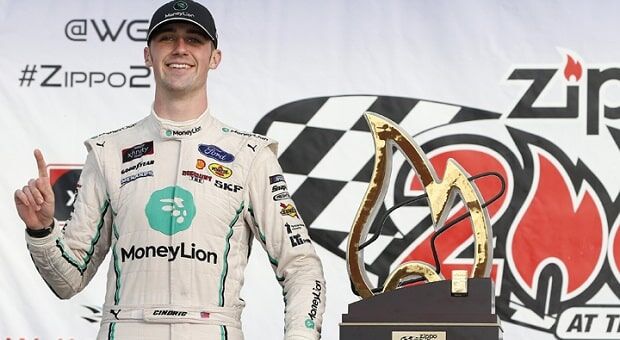 It's all icing on the cake from this point on for one member of a local professional racing organization.
                Regardless of what takes place in later this week's regular-season finale, Mooresville-based Team Penske driver Austin Cindric is already assured of being showered with all the accessories being accorded to the one singled out as that phase's champion in the NASCAR Xfinity Series circuit.
                Cindric secured the crown following his efforts and those around him logged in during the last of the schedule's doubleheaders of events planned for the season over the course of last weekend.
                The Penske entry parlayed a pair of top-10 placements on back-to-back nights in races held at the short-track Richmond Raceway into locking up the Xfinity regular-season trophy awarded with a handsome bonus venturing into the all-meaning postseason phase.
                Cindric, also the son of Team Penske president Tim Cindric, was saluted for his season that has featured five wins, 16 placements among the top five and 20 finishes in a field's fastest 10. The driver of the outfit's No. 22 Ford receives 15 bonus points prior to the playoffs and is guaranteed to fill the No. 1 seeded status heading into the circuit's playoffs that get underway later this month.
                "I'm not a big proponent of setting goals,'' said Cindric, upon sizing up his season to this point, "but we put something on paper and my number one was the regular season championship. We sat down as a team at the beginning of the year and we all wrote down our top-three goals. From the outside looking in, maybe that was a lofty goal. We have a lot of speed and a lot of fight. I am really proud of that effort."
                On the visit to Richmond, Cindric clocked in fourth in the first night's Go Bowling 250. The following afternoon, Cindric lined up 10th at the finish of the Virginia is for Racing Lovers 250. Combined, those feats along with the efforts of all remaining challengers in the hunt served to solidify his regular-season title with one more event left on that segment of the season's schedule.
                The Xfinity Series, considered the next level down from the top-tier NASCAR Cup Series, closes out its regular season schedule later this week at another short track Bristol Motor Speedway. The circuit's playoffs then get underway at Las Vegas Motor Speedway in two weeks.