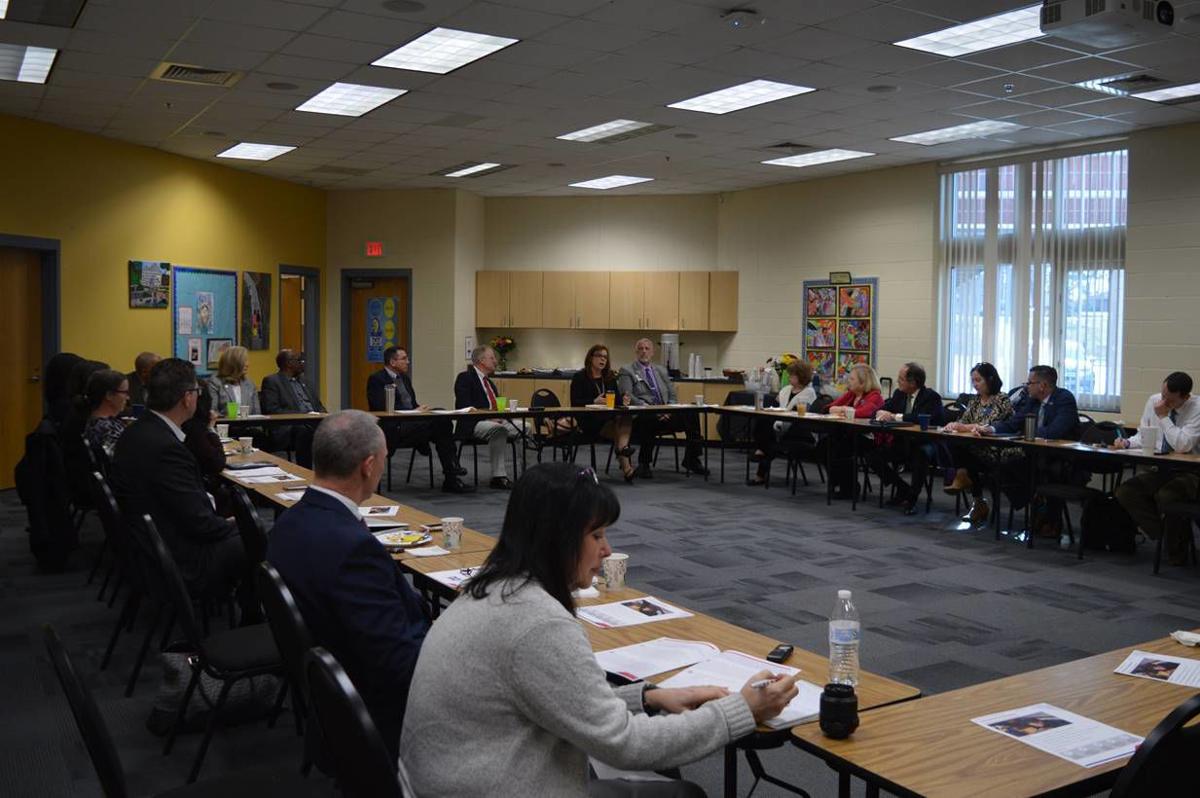 School calendar flexibility, adequate compensation for public school personnel and district growth were among the issues covered at a legislative breakfast attended by town, county, state and Mooresville Graded School District leaders Monday at East Mooresville Intermediate School.
Many of the topics have been discussed for years but have resulted in little change, including that of teacher and classified staff pay, officials said.
Fewer college students are enrolling in higher education programs in North Carolina because the starting salary for beginning educators is about $35,000, said Ingrid Medlock, MGSD assistant superintendent for human resources. That's $10,000 less than beginning teachers starting out in Virginia or South Carolina, Medlock said.
As a result, "We are currently looking at a teacher shortage like we've never seen before," said Medlock. The financial challenges teachers face are disheartening. North Carolina teachers have no financial incentive to earn their master's degree after lawmakers in 2013 eliminated a provision in the state budget that would automatically provide a raise with the higher education degree. Medlock also asked that longevity pay and retiree health benefits be reinstated to help make it worthwhile for educators to stay their entire careers. "Please help us," Medlock said. "Please."
Eyeing state Rep. John Fraley and N.C. Sen. Vickie Sawyer, MGSD School Board member Debbie Marsh mentioned the $900 million state budget surplus. "I personally would hope that the legislature looks at putting that back towards unfunded liabilities and other needs in education," Marsh said.
Mooresville Mayor Miles Atkins, Mooresville Commissioner Thurman Houston, Mooresville Mayor Pro Tem Lisa Qualls, MGSD Board of Education Chairman Roger Hyatt and school board members Kerry Pennell, Leon Pridgen and Marsh attended Monday's meeting. Also in attendance were Iredell County Board of Commissioner Chairman James Mallory and Iredell County commissioners Gene Houpe and Ken Robertson.
MGSD Chief Financial Officer Terry Haas said she'd love to see education funding from the state reinstated to that of the 2008-09 level with an increase for inflation as the district has reached the end of its rope in stretching limited resources.
"I would just implore you to go back and do your best to convince the rest of the General Assembly to do the right thing by the children of the state of North Carolina," Haas said.
Some local educators have been upset with change that has been slow to occur over the years, Marsh said.
"What you are seeing is just the tip of the iceberg of the frustration of what educators feel today," said Marsh. "It's difficult when you try to take a more moderate approach, a less zealous approach, and you don't feel like you're being heard."
Although Sawyer said some state educational groups have only hurt efforts by local school districts to gain advocacy in the state Senate by sending negative and what she defined as threatening phone calls, Fraley said he and Sawyer have had positive conversations with groups that have come to Raleigh to discuss education. However, it would be "very, very negative" if teachers were to go on strike for higher pay and Medicaid expansion as the North Carolina Association of Educators is considering, Fraley said.
Fraley also told local officials to look for possible movement with the state's stalled budget over the next few weeks.
Fraley then told the group to soon expect discussion in Raleigh that could lead to proposed legislation on the definition of year-round school, which could impact local school district's ability to control their own calendars.
The MGSD and the Iredell-Statesville Schools are two of about a dozen districts in North Carolina that started the 2019-20 school year in early August, several weeks before public school is mandated by law to start. However, year-round schools and public charter schools are exempt from the mandate.
Because there is no firm definition for year-round school, the MGSD and Iredell-Statesville Schools have counted their academic summer sessions as year-round school, allowing local officials to choose their own first and last days of the academic year.
MGSD officials have said the new calendar allows high school students to take exams before winter break and have said it better aligns with local community colleges.
MGSD Superintendent Dr. Stephen Mauney and Chief Operations Officer Michael Royal asked state leaders for help in blocking legislation that would penalize school districts simply trying to best serve their students and communities.
"We believe that the folks in Mooresville know what's best for students in Mooresville," Royal said.
Fraley encouraged local school leaders to speak with the North Carolina Department of Public Instruction and the NCAE for help in tamping down any initiative to legally define year-round school because there is enough support in the house to pass such legislation, he said.
Sawyer said, however, there are enough votes in the state Senate to block legislation defining year-round school.
Leaders also discussed accountability in school choice options and Tuesday's bond referendum that they hoped would cover the $115 million cost of building a new middle school on Rinehardt Road in the MGSD and a new high school in the Iredell-Statesville School District.
One thing Mauney said the bond referendum has brought to light is that it is illegal in North Carolina to charge impact fees for developers seeking to build, Mauney said. That's something Mauney said he'd like to see studied.