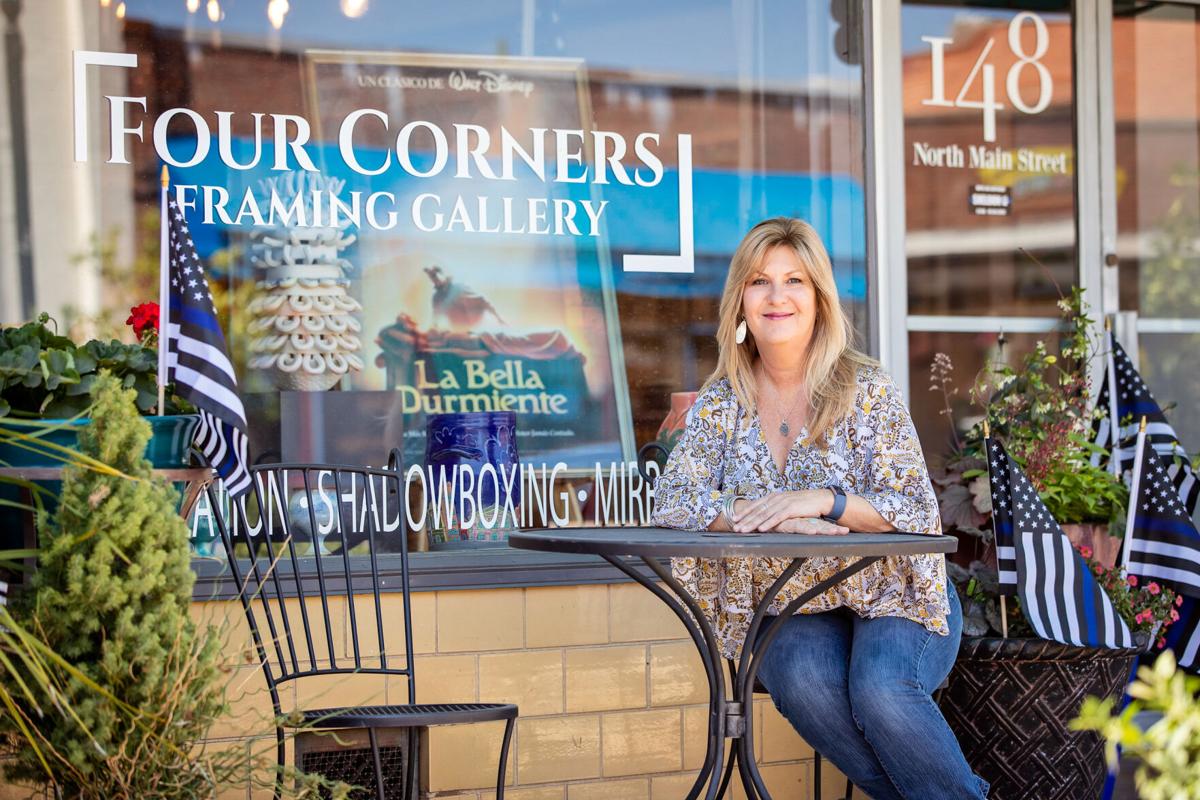 Mooresville Downtown Commission (MDC) Board Chairman Kim Saragoni has been recognized as the "2020 Downtown Mooresville Main Street Champion" by the North Carolina Main Street Program. The Mooresville Downtown Commission (MDC) is an active member of the program, which works to stimulate economic development within the context of historic preservation across the state. The award is presented annually to individuals who have demonstrated an ongoing commitment to downtown improvements and the betterment of their communities.
The MDC nominated Saragoni, owner of Four Corners Framing and Gallery, due to her longstanding and consistent investments of time, energy, and money towards making Downtown Mooresville a happening place. With framing experience in retail, collectibles and art, Saragoni decided to open a custom framing shop in Downtown Mooresville in 2006. Her passion for her downtown community inspired her to join the MDC Board in 2007. Ever since, she has brought her endless energy to multiple committees, volunteered countless hours during events, and even served for 10 years as board secretary. She took on her current role of MDC Chair in 2019, and is striving through her creative problem solving and evident leadership skills to further increase the effectiveness of the working board.
Saragoni wholeheartedly supports her fellow downtown businesses, and is as passionate about Downtown Mooresville's success as she is about her own. Her warm, enthusiastic personality is contagious and her entrepreneurship inspiring. She and her Four Corners team have worked to stay current with changing materials, techniques, equipment and education, bringing customers advanced design skills, cost savings, and their signature personalized service. Kim's intuitive knack for business and building relationships enabled her to expand into a larger location in 2017 and add an art gallery that doubles as event space. Now located at 148 N. Main St., Four Corners is a successful, multi-functional business offering custom framing, retail, lively events, learning workshops, and local artist exhibits.
In addition to her commitment to the MDC, Saragoni is an active Exchange Club of Mooresville-Lake Norman member, Project Chair of Field of Flags and the Brick Paver Program (Exchange Club), and a supporter of Dove House CAC, Mooresville Arts, Pharos Parenting, Girls on the Run, Pine Lake Prep, and Welcome Home Veterans at Richards Coffee Shop. She has an unfailing servant's heart and cares deeply for all the organizations and causes she volunteers for. Kim's positive attitude and unwavering willingness to help make her a tremendous asset to the MDC and to the entire Mooresville community.
Get local news delivered to your inbox!
Subscribe to our Daily Headlines newsletter.