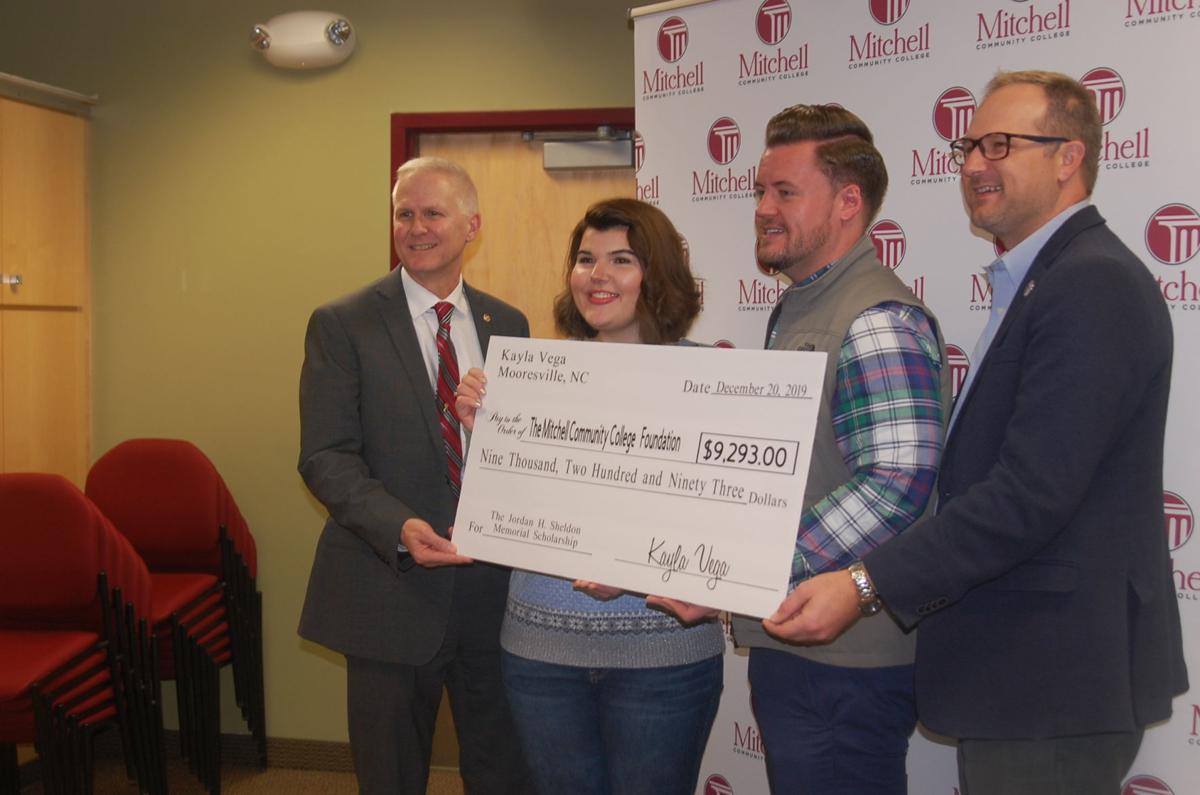 While he excelled at his classes in Basic Law Enforcement Training, Jordan Sheldon struggled with finances to pay for his education.
A scholarship founded after Sheldon, a Mooresville Police Department K-9 officer, was shot to death in a traffic stop in May will assure others may have a financial cushion to help them with BLET classes.
A check for nearly $10,000 was presented to Mitchell Community College for the Jordan Sheldon Memorial Scholarship, and combined with funding from MCC, the endowment is halfway to its goal.
Sheldon's brother, Carson Ledford, said the aim is to have a $50,000 endowment and award two $1,000 scholarships a year to BLET students.
"Ten, 20, 50 years from now, Jordan will still be helping," he said.
The $9,292 check was raised largely through the efforts of Mooresville singer Kayla Vega.
She said she felt compelled to do something to honor Sheldon and keep his legacy going. "It was the least I could do for him," she said.
She penned a song, called "Home," and then came upon the idea of doing several festivals to raise money for the fund.
To make sure Sheldon's family would approve, she made contact with Ledford, and the family gave its blessing to the effort. In the process, her mother Jo Vega said, Ledford became another member of their family.
Ledford said many students wanting to go through BLET face the challenges of paying for their education in an intense program that leaves little time for a job. The $1,000 scholarships planned will meet about half of the expenses of the BLET program.
David Bullins, director of safety for MCC, said these funds might make the difference for a student considering BLET.
"They can start out their career without having a debt," he said.
Vega said the money raised the past six months was the result of the generosity of the community.
And the efforts are not over, as the hope is to bring the scholarship to $50,000, and it can continue for years as an endowment, Ledford said, after he talked about Jordan's efforts to pay for his own education.
Donations to the scholarship fund can be made through Mitchell.
Ledford said he believes this is a fitting legacy to his brother, who always wanted to be a police officer, and who, during his career, worked to bring the community together.
"I think he'd be happy," Ledford said. "I think he'd be proud of it."