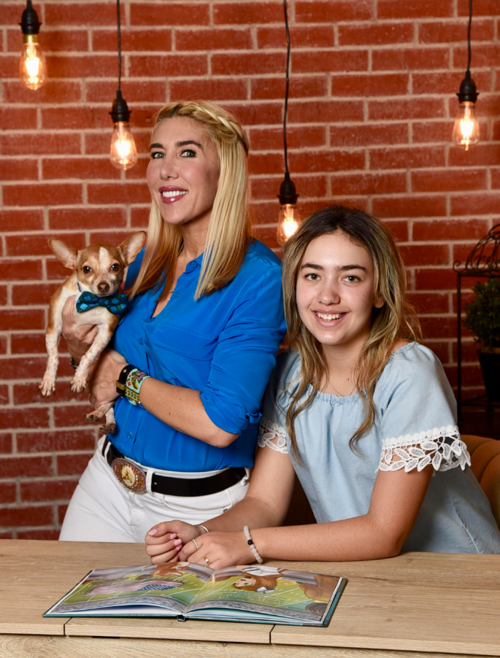 Mooresville resident Marnie Schneider has a very familiar co-author for the latest book in her sports-based children's series, "Football Freddie and Fumble the Dog: Gameday in the Carolinas."
Schneider has partnered with her 15-year-old daughter, Goldie Grace, a rising sophomore at Davidson Day School, to share fun historical, state and sports facts from the Carolinas.
A passion for football has long run in Schneider's family. Her grandfather, the late Leonard Tose, owned the Philadelphia Eagles from 1969 to 1985, including when they won the 1981 Super Bowl. Her mother, Susan, acted as the team's general manager and legal counsel during that time, leaving Schneider with an extensive knowledge and appreciation for the sport that has stayed with her into adulthood.
Schneider earned a degree in broadcast journalism from Penn State University then when into acting (her film credits include parts in "The Wedding Singer" and "The Bachelor") before moving to Mooresville a few years ago.
Her first book, "Football Freddie and Fumble the Dog: Gameday in Philadelphia," was picked up by Mascot Publishing last year, and the book has been turned into a series, with Freddie and Fumble visiting each city that's home to an NFL team. The characters tour the towns and share facts about each place before hitting the big game.
Schneider has passed along her love of football to her children, including Goldie. Goldie worked on the book as part of her school's creative writing class, helping to read the drafts, edit and come up with new ideas.
"We decided to add a new character this time around, and Goldie was a big part of that decision," said Schneider. "Her name is Mary, and she acted as Freddie's tour guide throughout the book."
The pair also focused heavily on the military roots of the two states, both of which have multiple bases. They also subtly added in life lessons for readers like the importance of good hospitality, friendship and writing thank-you notes.
"It's a more complex book than the Philadelphia one, and I think even adults will really enjoy it," Schneider said. "It took us about 15 to 20 drafts to get it right, but we were a great team. I feel like even if you can't make it to the stadium, these books give you a snapshot of what it's like to be there while you learn interesting tidbits."
Added Goldie: "It was hard to narrow down the facts we wanted to use, because there were so many good ones. But we had to choose the ones that would be the most interesting to kids between ages 5 and 10. I think we have quite a few things in there that a lot of people don't know, even if they've lived here all their lives."
A big aspect of Schneider's ongoing series is giving back to the community. Proceeds from the sales of the books go to her family's charities, A Level Playing Field Foundationand the Keep on Playing Foundation, which financially supports sports programs in local communities. Schneider also has donated copies of her first book to the Ronald McDonald House and plans to pair up with Mooresville's Police Athletics and Activities League program.
"The results of your purchase of this book is outreach, and letting kids play sports safely by getting them the equipment they need to enhance their experience," she said. Next up, Schneider will work with her son, Jonathan, for their upcoming book based in Atlanta.
For more information about "Football Freddie and Fumble the Dog: Gameday in the Carolinas,"which is available for pre-order, visit www.footballfreddie.com.