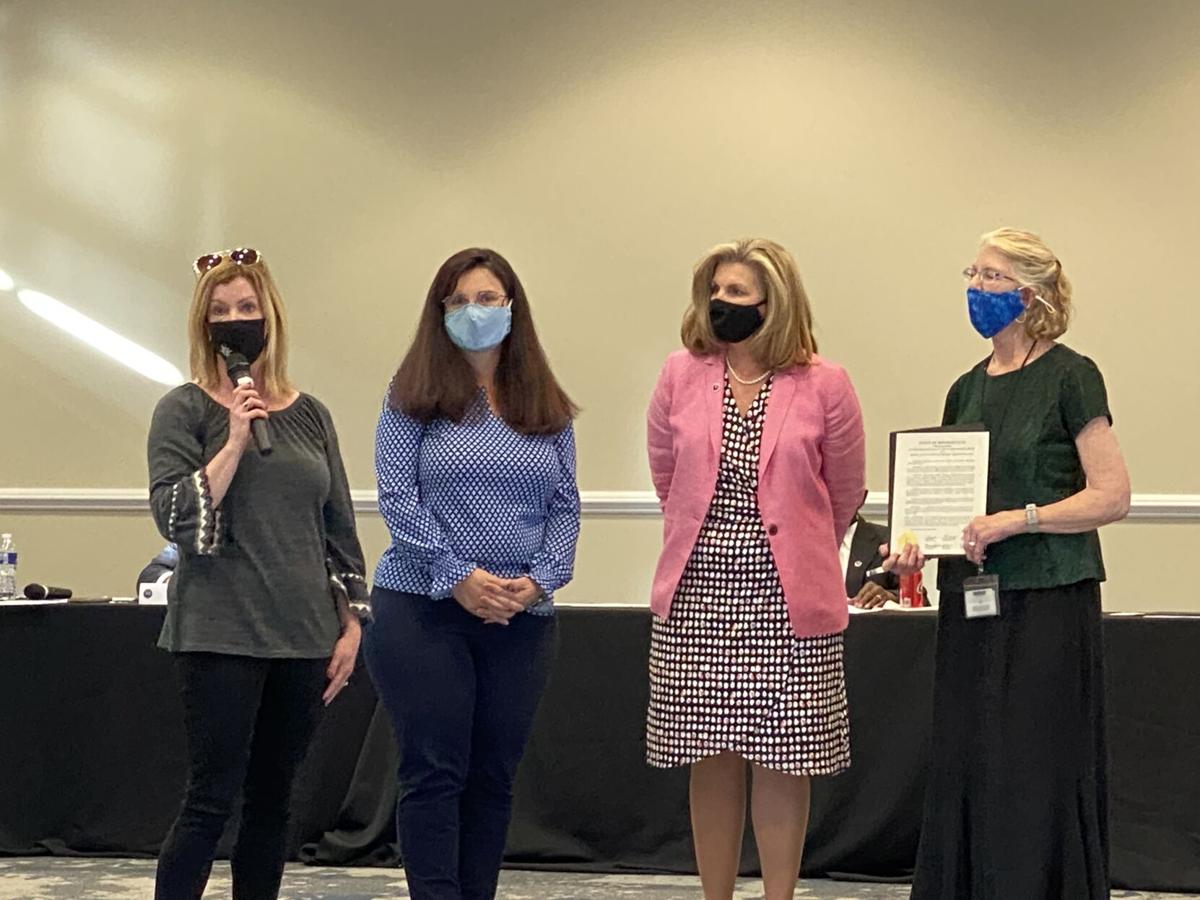 The Mooresville Board of Commissioners on Monday proclaimed April 2021 to be Library Appreciation Month, recognizing the Mooresville Public Library as "the heart of the community."
Employees of the library, including director Marian Lytle, were on hand to hear the proclamation that also included marking Tuesday as "Library Employee Appreciation Day" in Mooresville.
"This wouldn't be possible without the wonderful employees of the Mooresville Public Library," Lytle said. "Without the citizens that come through our doors on a daily basis and without the support of the town."
The Mooresville Public Library also received a donation of $2,500 from the Mooresville Lions Club to help the library purchase materials to support education initiatives as well as new large print books, audio books and any other materials that may help people with vision or hearing deficiencies or programs for diabetes awareness.
The board also proclaimed April 2021 as Child Abuse Prevention Month and 18 blue and white flags will fly in Moor Park to honor the 18 children in North Carolina who died at the hands of the parents or caregiver in the last year.
In other business, the commissioners unanimously passed a resolution to pay law firm Tharrington Smith the amount of $17,500 to assist in Mooresville's redistricting following the release of the results of the 2020 census. Those results are expected by Sept. 30.
According to Town Manager Randy Hemann, redistricting is required to occur prior to the next election but timeframe as currently projected would not allow them "adequate time" to complete the redistricting before the 2022 election cycle begins.
The town is in contact with the North Carolina General Assembly, as well as the state representatives that serve the Mooresville area to figure out their next steps.
Other items passed Monday:
A conventional rezoning request from MPG Arden, LLC for property located at 189 Williamson Road (the former Josh's Farmers Market) to go from Single Family Residential-2 (R2) to Corridor Mixed Use (CMX).
Adopting the Community Development Program Framework from the Planning and Community Development Department.
Authorizing the mayor to sign the 2021 HOME Funding Action Plan and adopt a resolution authorizing the Town of Mooresville to enter into a joint cooperation agreement extending participation in the Cabarrus/Iredell/rowan Housing Consortium to receive federal HOME funding for the 2021 federal program year.