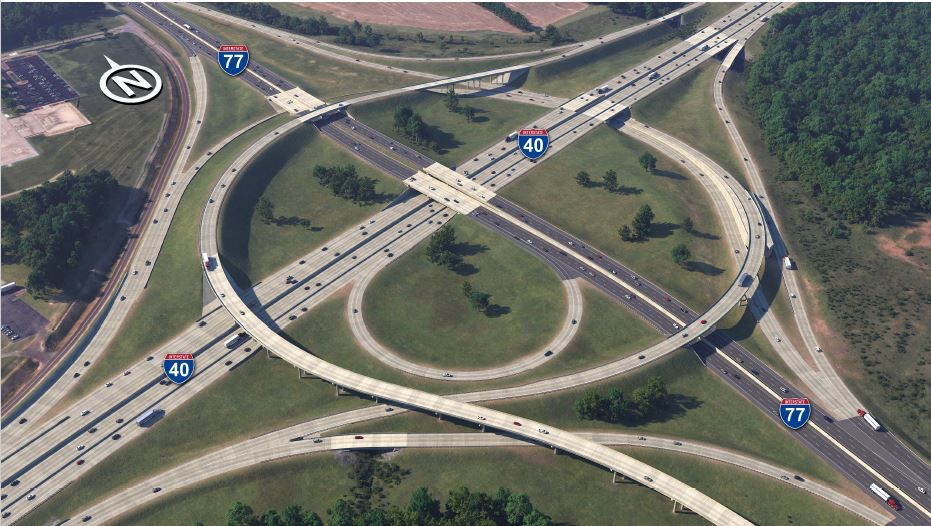 Construction around the intersection of Interstate 77 and 40 has begun again after a year. As traffic inconveniences begin anew, now is a good time to look back on why this improvement project began, what Phase 1 looked like and to look forward to what Phase 2 offers.
"This project is needed to improve traffic operations transitioning between I-77 and I-40, with traffic volumes projected to reach 110,000 vehicles per day by 2035. The current configuration was built in the 1960s and has outlived its service life," the N.C. Department of Transportation's spokeswoman Jen Thompson said. "This project will also improve safety and connectivity at an important interchange connecting two vital corridors to the state and the region."
Time has stripped Richard Barnette and Jonathan Henderson from the history of the efforts surrounding the project. Barnette, 38, and Henderson, 16, were both from Harmony. In 2005, the Geo Tracker they were in was involved in a three-car collision and burst into flames. Barnette and Henderson died while a third passenger, Christopher Barnette, 22 at the time, was able to crawl out a window and survived.
The Geo Tracker and a Ford Ranger were stopped in the exit lane when a GMC Jimmy struck the Geo Tracker which in turn struck the Ford Ranger.
The Record & Landmark reported, local rescue officials had been concerned about that exit ramp for years because people would be stopped in a lane of the interstate, waiting for a traffic signal at US 21 and I-40.
The tragic wreck inspired the plan that is still coming to fruition.
Shortly after the wreck, the DOT started to make plans to fix the intersection of I-77 and I-40. It was reported it could be three years until construction began. In reality, it was seven.
"Due to the project size and costs, it was decided to separate the project into phases," Thompson said. "There was some discussion of separating it into three phases, but ultimately opted to use two phases from a constructability standpoint."
From 2012 to 2017, the area around the intersection of I-40 and I-77 was full of traffic barrels as I-40 was widened, bridges were replaced, an exit was added and the "diverging diamond" allowing people to exit I-40 onto U.S. 21 with less congestion was put into place.
Thompson said Phase I cost $89 million.
All Phase I improvements were:
» Widening I-40 to three lanes in each direction from Old Mocksville Road to east of N.C. 115;
» Building a Diverging Diamond interchange at I-40/U.S.21;
» Reconstructing U.S. 21 from south of I-40 at BB&T Bank to north of Glenway Drive;
» Building an I-40 westbound collector/distributor road, which serves to move traffic from local streets to larger roads;
» Replacing the bridge on Radio Road over I-40;
» Building a bridge on I-40 over U.S. 21 and Fourth Creek;
» Building a bridge from Sunset Hill Road to Gaither Road to connect U.S. 21 and Gaither Road, eliminating the two-way ramp at U.S.21/I-40;
» Building a ramp from westbound I-40 to northbound I-77;
» Building a ramp from northbound I-77 to eastbound I-40;
» Building parallel lanes on I-40 West that allows vehicles to access U.S. 21, as well as accessing I-40 from U.S. 21 without disrupting the flow of traffic;
» Building a ramp fly-under, which is the collector-distributor road, to U.S. 21;
» Upgrading I-40 Exit 154 into a diamond interchange;
» Building noise walls along I-40.
While the construction for Phase 1 moved smoothly and on schedule, future plans were at risk.
Phase II, which proposed flyover ramps to the three other exits at the I-40 and I-77 intersection and the replacement of bridges at Davie Avenue and Broad Street, was cancelled in 2014 after a new prioritization system was applied by the DOT.
However, the next year, funding for the project was included in the state's budget, and Phase II was scheduled again — though there were some changes from the original plan.
"In order to deliver the project in a more timely manner the project was let as a Design Build project. This means the contractor has partnered with a design firm to develop the plans and build out the project," Thompson said. "During the process the Design Build team proposed to construct a partial turbine interchange to eliminate the long flyover bridges, decreasing the project's footprint.
Thompson said the DOT had to wait until after Phase I construction was complete to seek bids for Phase II.
"We could not proceed with contracting the second phase while work was incomplete on the first phase, since both contractors would occupy the same project area."
Thompson said Phase II construction is expected to be complete in 2022. A public meeting is expected in August.
» Constructing a partial turbine interchange at I-40 and I-77, which means using a ramp to make interchanges easier without disrupting traffic;
» Widening I-40 from Radio Road to Old Mocksville Road;
» Building collector-distributor lanes on I-40 East for I-77 to make accessing I-77 easier;
» Widening I-77 from Jane Sowers Road to Salisbury Road;
» Widening East Broad Street from Vine Street to Signal Hill Drive;
» Replacing bridges on U.S. 64 (Davie Avenue) and Broad Street;
» Replacing bridges on I-77 over Fourth Creek and I-40;
» Widening bridges on I-40 over the U.S. 21 collector distributor loop;
» Building new bridges on I-40 over an unnamed creek just east of the interchange;
» Removing existing bridges on I-40 over closed ramp from U.S. 64.
I-77/I-40 improvements project timeline
2005: A fatal wreck on an entrance ramp as well as several other non-fatal wrecks on I-40 at the U.S. 21 exit triggers a three-year-long study on the area.
2006: Environmental documentation is signed at the Department of Transportation.
2012: Contractors are hired, necessary property is purchased and work begins for Phase I of a three-phase project.
2014: The North Carolina Department of Transportation drops Phase II when it scores lower on the department's prioritization scale.
2015: Funding for the second phase is included in the state's budget.
2017: Phase I construction ends.
2018: NCDOT hires Lane Construction Corp of Connecticut for Phase II.