A wildfire that started Saturday has burned more than 1,000 acres in Pilot Mountain State Park, officials said Tuesday afternoon.
Around 60 N.C. Forest Service firefighters were working in the park Tuesday. No structures inside the park have been damaged, said Jimmy Holt, Guilford County ranger for the N.C. Forest Service.
"We have a good handle on this," Holt said. "Of course, with the conditions we're facing right now, it's far from over. There's a lot of work that's left to be done."
The challenges faced by firefighters include continued dry weather and low humidity in the forecast for the next week, he said. Those conditions prompted the forest service on Tuesday to issue a statewide ban on outdoor burning.
Holt noted that the area has gotten just 3/10 of an inch of rain in November, far below the average 3 inches for the month.
"The weather has definitely not been in our favor," he said.
Potential fuel for the remaining flames also poses a challenge. Firefighters must remove dead, dying and burning trees still standing in the area, Holt said.
"Crews will go in with chainsaws and put those trees on the ground and alleviate the chances of burning embers being carried across the containment lines," he explained.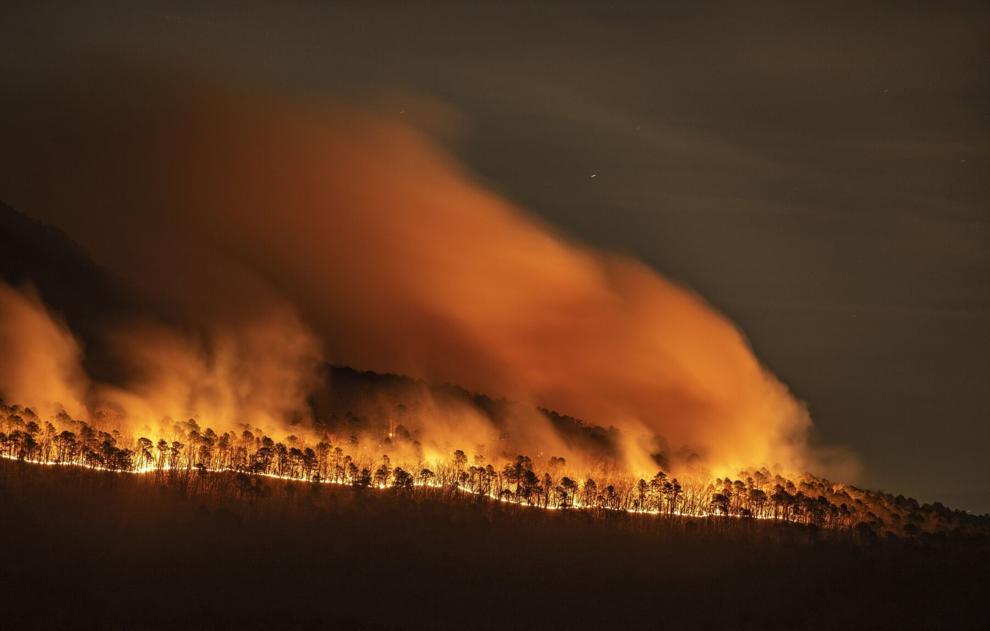 As of Tuesday afternoon, the forest service considered the fire 20% contained, Holt said, adding that the figure does not represent the size of the area still burning.
"That means 20% of those containment lines, we feel we could walk away from and they'd need no attention," he explained.
Firefighters on Monday afternoon intentionally burned leaves, trees and other materials on the forest floor that could act as fuel.
"In some areas the fire was progressing (on its own) down the mountain very quickly, and other areas were more patchy," Holt said in explaining the intentional burn strategy.  "Firefighters … were just bringing that fire down the mountain with the assistance of drip torches."
Firefighters will also soak unaffected areas with water in a process they refer to as "mopping up."
"It's a dirty, slow process," Holt said.
One of the next steps in fighting the fire will be determining how far inside the containment line to carry out that process, he said.
"A lot of times, if you mop up 100 feet in and you still have some heat,  that's OK," he explained. "We can monitor that heat until we get significant rainfall."
Holt has said that the fire, which started Saturday near the park's Grindstone Trail, was "human caused in some form." Law enforcement officers will investigate in an effort to pinpoint what sparked the blaze.