A man who exchanged gunfire with Winston-Salem officers and kept police at bay for hours overnight Thursday into Friday died in a house on South Main Street in Winston-Salem, Police Chief Catrina Thompson said.
The dead man was identified as Gilbert Lee Collison Jr., 47, whose address is listed as Pfafftown on the N.C. sex offender registry. He allegedly broke into a house at 4201 S. Main St. in Winston-Salem sometime before 9 p.m. Thursday.
Jayna Prater, who lives at the house and told investigators Collison was a short-term boyfriend, called police to say that Collison had gotten into her house and was threatening to kill any officer who came to the house.
As police responded to Main Street, they also made contact with Prater, who told them how events began unfolding earlier in the evening.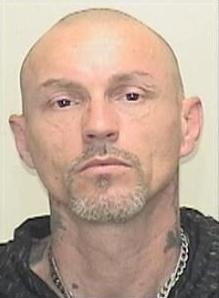 According to police, Prater said that she and Collison got into an argument after Prater learned that Collison was wanted by law enforcement. During that argument, Collison allegedly pointed a shotgun at Prater and threatened to harm her. Collison then left Prater's house.
Later, while Prater was away from the house, Collison telephoned her, said that he was inside her house and threatened to shoot any officer who tried to enter.
While police officers responded to Prater's house and surrounded it, others went with her to the magistrate's office, where a warrant was issued for Collison's arrest on a charge of assault by pointing a gun.
Police said that Collison was already wanted on charges including failure to register as a sex offender, larceny and violation of a protective order. Collison also had outstanding arrest orders for driving with a revoked license, misdemeanor probation violation, failure to register as a sex offender, failure to report a new address as a sex offender, two counts of possession of methamphetamine and driving while impaired.
During the standoff, crisis negotiators talked for hours with Collison by cellphone, trying to convince him to surrender peacefully, police said. Finally, in an attempt to bring the standoff to an end, police put a type of "chemical munition" into the house. That's when Collison used a shotgun to fire multiple shots toward officers, police said.
Later, police said, Collison came to the front door of the house with a shotgun. Police fired what they described as a "less-lethal impact baton" at Collison, striking him in the leg. That's when Collison fired his shotgun at police for the last time.
Three officers returned fire and Collison retreated deeper into the home, police said.
Police repeatedly tried to contact Collison after that, but got no response. A remote device was used to search the house, and Collison was found lying on the floor in the living room.
Police said medical responders tried to help Collison. The medical personnel determined that Collison was dead, police said.
Three Winston-Salem police officers were placed on administrative duty, as is standard procedure in an officer-involved shooting, after the standoff ended. The State Bureau of Investigation is heading the investigation into the death of Collison, while police are investigating the assault on the officers and conducting an administrative review of the officers' actions.
The three officers on administrative duty are Sgt. Brian H. Ashley, at 17-year veteran; Sgt. Peter Watkins, a 19-year veteran; and Corp. John Heyer, an eight-year veteran of the police force.
No officers were injured, police said.
Police evacuated nearby houses during the standoff, which stretched from around 9 p.m. Thursday to 4 a.m. Friday, when residents were allowed back into their homes.
About 8 a.m. Friday, a police forensics crime investigation truck pulled up near the brick house on the east side on Main Street where officers were gathered outside.
Patty Collins and her mother, Annette Collins, were at home next door when police showed up in force around 9 p.m. Thursday.
The women said that while they we're waiting on a nearby street, they heard police on a loudspeaker telling someone to "come out with your hands above your head and put your weapon down."
The women said at one point in the early morning they heard multiple noises that sounded like gunfire or the sound of a stunning device going off.