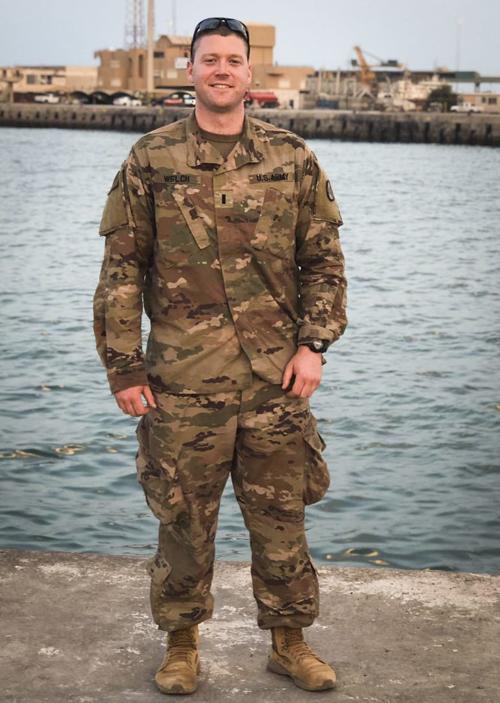 Kathy Welch catches the news in snippets. She might have the radio tuned in to NPR while driving, or flip on the nightly with Lester Holt in the evening.
Last week, though, she spent more time than usual listening, watching and reading the news for the same reason we all did — the rising tension in the Middle East.
Violent protests at the U.S. Embassy, the killing of an Iranian general who the Pentagon said had a hand in the killing and maiming of hundreds of American and coalition service members, and the threat of possible war meant that we kept our attention on the rapidly changing developments.
But for Welch, it was more than just wanting to be informed.
Her 28-year-old son, 1st Lt. Austin Welch, had shipped out for the Middle East last August for a yearlong deployment with the 30th Combat Brigade of the N.C. National Guard. Her interest was personal.
"It's just hard to believe," she said Thursday after the tension dialed back some after Iran, in a limited retribution, launched missile strikes on Iraqi bases, some housing U.S. troops. No one was injured by the strikes, which did only minimal damage.
"Since I haven't laid eyes on him since August, I admit I have glanced at photos of him as a baby and as a little boy more than usual," Welch said.
Mobilizing rapidly
Last week surely caused whiplash and no small amount of heartache and worry for military families across North Carolina.
Some 3,500 soldiers from the 82nd Airborne at Fort Bragg lined up for rapid deployment and climbed aboard transport planes. A few hours east at Camp Lejeune, 2,500 Marines headed to the Mediterranean Sea with a Navy amphibious assault ship.
But that's what they do. Some faction of paratroopers and Marines are always geared up and on alert to ship out.
The images sent out from Fort Bragg and Camp Lejeune were solemn, and sadly, unremarkable because of their familiarity.
Uniformed grunts standing by or sitting on a few hard wooden benches appeared to be in a hurry to wait. Veterans across all generations recognize a familiar posture.
While we marveled at the speed of the modern active-duty military, a lot of us probably forgot — or never realized in the first place — that 2,700 members of the N.C. National Guard were already in place. And they have been since summer.
News accounts, scant here in the Triad but big news in military communities where folks are more attuned to deployments, detailed a series of four mobilization ceremonies across North Carolina in August for the 30th Armored Brigade Combat Team.
"The 30th's mission will be to sustain theater readiness to conduct unified land operations and to support partner nations in making the region safer," read the Guard's official statement.
The 30th, the Guard notes with some pride, is a go-to for the Pentagon. It has been deployed five times since the Sept. 11 terror attacks— three to Iraq — and this is its third deployment as an entire brigade.
At one of those mobilization ceremonies, the firstborn of Kathy and David Welch's two sons was among those soldiers.
Kathy Welch's father and father-in-law both served, ROTC guys at Carolina, and her grandfather was a prisoner of war during World War II. So she had some knowledge of the military and its ways. But looking out at her son with a lieutenant's bar pinned to his collar was different; that was immediate and personal.
Full disclosure: Kathy and David Welch have been friends of mine for years. Winston-Salem really is a small town.
"Walking through the armory and seeing all those soldiers lined up, (my son) to one side, I could see his role in all of it," Kathy Welch said. "There were tons of little kids running around. … There were lots of moms and dads being deployed, and grandparents who'd be helping take care of little kids."
Faith in the training
That one scene, in a steaming hot National Guard Armory in August, perhaps best tells the story of what we ask of soldiers.
The task of defending the nation — and its interests — has since the end of the draft in 1973 fallen on an ever-shrinking segment of the population.
Volunteers, whether driven by family tradition, a sense of patriotism or simple economics, enlist. And when they're called for extended duty overseas, the families they leave at home carry more on their shoulders than an 80-pound rucksack and a rifle.
At that mobilization ceremony, Kathy Welch couldn't help but feel that. After high-up officers finished their speeches, the remaining time was devoted to a family outing with food and games.
"I knew that was time for me to get out of there. That was for the kids, husbands and wives," Welch said.
"He walked me to my car," she said of Austin. "We hugged, and I just drove away knowing I wouldn't see him for a year."
And while that was with the knowledge that the Middle East is always volatile, it was still a long way from last week's emotional roller coaster.
"I know it'll be a full year before I see him," she said. "I have friends who have lost kids (to accidents) and I think about that a lot. That way I don't feel too sorry for myself. I don't need to be whining when I know people who won't see their sons again."
For the record and security, the exact locations of units in the 30th Armored Brigade Combat Team officially are left vague.
"There are 2,700 North Carolina National Guardsmen under CentComm authority," said Maj. Matthew Boyle, a spokesman for the Guard using the military jargon for Central Command in the Middle East.
The particulars matter to the soldiers' families, of course, but not as much as being able to communicate in real time via satellite phones and social media — a far cry from the days when handwritten letters arrived sporadically.
"I have the letters my grandfather wrote to my grandmother from prison camp," Welch said. "I do think about how lucky we are with communication."
As for the bigger picture and a situation that the past few days have shown can change in a flash, the Welches take the same attitude as every other generation with daughters and sons serving overseas.
"We really just have faith that the military is well-trained and able to handle these situations," she said. "We have full-faith they're very well trained and that they know what they're doing."
336-727-7481
@scottsextonwsj
Be the first to know
Get local news delivered to your inbox!