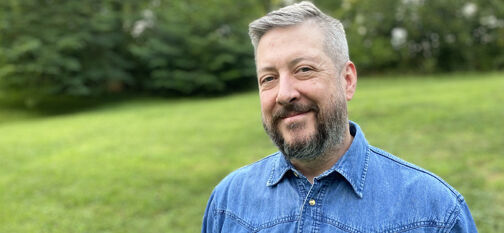 While mowing the front yard, I discovered what may be a portal to another dimension.
I was bopping along, cutting down dandelions, clover and the occasional blades of grass that make up a majority of the lawn when I noticed something peculiar near the circular garden spot where we raise tomatoes, peppers and squash for various neighborhood critters to eat before we get a chance to harvest.
It was a hole in the ground, slightly larger in circumference than a basketball.
"Well, that's a new one," I thought.
Was I surprised by this development?
I live in a former mill village, just down the street from the smokestack that towered over the cotton mill where in 1929 striking workers clashed with law officers and blood was shed, getting national attention at the time.
"Twas in Marion, North Carolina/In a little mountain town/Six workers of the textile/In cold blood were shot down," wrote famed folk singer Woody Guthrie in "The Marion Massacre."
Now, it's a community in transformation with much less bloodshed, slowly on the upswing after lean decades following the move of textiles elsewhere. There's a weird and wonderful vibe in this neighborhood, and I tend to discover things to write about, whether it's an arrowhead from the garden spot, someone's 48-year-old medical records lying in the front yard or a pesky groundhog named Gary.
And now, a mysterious hole.
This did not appear to be the handiwork of Gary. I fetched a flashlight from the house and explored the opening. I didn't want to stick my arm in, having seen enough horror movies to know that when I did, something would grab me and pull me in.
"No! No! Don't do it!" people in movie theaters would scream when people still went to movie theaters. "What an idiot. I knew that guy would be the first one to die."
Still, I ventured in and found it to be about 4 feet deep, the inside slightly larger than the opening. I went to the shed that Gary lives under, told him I was borrowing a shovel, then poked around in the mystery hole. One side, I found was a brick wall.
About that time, my neighbor and pal pulled up to her house, tired from a long day of toting the mail. She got out of her car and began unloading groceries.
"Hey," I yelled to her, "I think I've found an interdimensional portal or perhaps the gateway to hell right here in the yard."
Believe it or not, this wasn't the oddest opening to one of our conversations. She immediately came over to look.
We both peered in and I tapped the side.
"I'm going with gateway to hell," she said.
Various in-laws, outlaws and neighborhood experts weighed in on the mystery hole over the next few days. Some surmised it was the remains of an outhouse, others believed it was part of the drainage system for the old cotton mill. My postal worker neighbor stuck with gateway to hell, and I still leaned toward portal to another dimension, which would explain why I kept finding odd things strewn around to write about.
In a just a couple of days, the woman of the house grew tired of the hole, the speculation and the attention it drew and I arrived home to find her filling it with dirt from the circular garden spot.
I reluctantly pitched in and after a short while, we changed it from a hole to a former hole.
But I have a suspicion that is not the end of it. From all the movies I've seen, it takes more than a little garden dirt to close a portal to another dimension.
Scott Hollifield is editor and general manager of The McDowell News in Marion and a humor columnist. Email him at rhollifield@mcdowellnews.com.