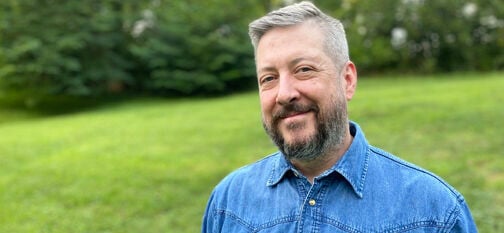 Having dealt with an earthquake, tornadoes, flash floods and a lengthy power outage that resulted in nearly all of the food in our refrigerator going to the groundhogs, I thought this would be a good week for a repeat. Enjoy this one from back in 2011.
I was certain I was to be dinged in the bank parking lot. There was little I could do to avoid it.
Screaming "No! No! No!" did not halt the woman in the blue car's backward progress.
Maybe regress is more appropriate than backward progress, but this much is certain: She was coming at me with no sign of stopping, and I was stuck.
This begins, as do many stories about parking lot dings, daring robberies and million-dollar counterfeiting schemes, with a trip to the bank. Fair warning: This involves only one of those.
My cargo was the newspaper's take in cash and checks for the day. I would say it was so voluminous it filled the back of my truck and stacked so high I paused at underpasses, fearful I would shear the top of the cash right off. Unfortunately, the take for the day sat on the seat beside me, stashed in a rectangular and dishearteningly thin bank bag.
I wheeled into the parking lot and headed for the drive-thru, hoping I would get a grape sucker as a treat. They always make me feel better about the thin bank bag.
That's when I saw white lights on the back of a blue car indicating reverse mode.
I hit the brakes hard enough to throw junk from the back onto junk from the front.
Surely, she saw the midsize white pickup in her rearview mirror.
I was going to be dinged.
Honestly, it's not like a ding would devalue the truck significantly. It's old, has a previous ding in the rear bumper from an encounter with a concrete planter — I blame the planter — and it's missing two wheel caps that mysteriously "fell off" one night in the parking lot of a Winston-Salem hotel. But I can easily buy a replacement pair on eBay from an entrepreneur in the Winston-Salem area who spends his evenings hanging out in hotel parking lots.
No, the ding wouldn't hurt the truck much. But I did not want to deal with accident reports and insurance forms and parking lot gawkers and a woman in a blue car who might believe I am as at fault as a concrete planter.
Plus, I feared even a low-speed collision might trigger airbag deployment, shoving a pair of $5 sunglasses so far into my face I would be forced to have them surgically removed, a procedure my insurance would not cover.
"We're sorry, Mr. Hollifield, but the preexisting condition here is that you were wearing $5 sunglasses that subsequently pierced your cranium, which you can clearly see in Subsection 5 … well, you can't clearly see anything anymore, but …"
I instantly checked my rearview mirror to determine if I had time to slam it into reverse, smoke the tires and avoid the ding. There was a minivan. I was trapped.
I imagined her thoughts at that moment.
"As soon as I back blindly from this space, I'm going to get my hair done then have some cobbler."
And then, 2 inches from the bumper of my truck, between the third "No!" and the fourth "No!" her backward progress, or perhaps more appropriately regress, came to a halt. She stopped.
She cut it hard to the right, reversed direction, rounded the corner and disappeared.
In the end, there was no ding. I'm betting she was part of a million-dollar counterfeiting scheme.
Scott Hollifield is editor and general manager of The McDowell News in Marion and a humor columnist. Email him at rhollifield@mcdowellnews.com.