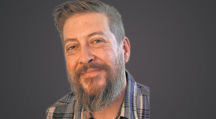 Here's what some TV viewers don't like: Loud commercials when watching zombies, zombies when watching commercials for the lottery and men stabbing men in the shower instead of stabbing women.
The website Dread Central alerted me to a highly entertaining set of public documents from the Federal Communications Commission listing complaints of concerned citizens angered enough by what they saw on TV to demand action.
This set of complaints was all about the long-running AMC zombie series "The Walking Dead," which has the highly improbable premise that a virus runs amuck around the world and…maybe not so highly improbable.
This virus, instead of dividing the populace into those who wear masks and those who don't, divides it into the living and the living dead. So, it's about the same.
For anyone not familiar with the show, it's gory, violent and profane, everything one would expect — and want — from something called "The Walking Dead."
A couple of concerned citizens demanding action from the FCC weren't concerned about the content, just the commercials between the blood-letting. Here's one:
"I was watching The Walking Dead on AMC's streaming platform. The commercials are at a significantly higher volume than the program itself," writes a viewer. "Please force AMC to lower the volume on their commercials to the same level of their programs."
When former "Magnum, P.I." star Tom Selleck's oily pitch for reverse mortgages is twice as loud as the screams of victims, there could be a problem.
Other TV enthusiasts apparently watch the zombie show each week hoping it will get more warm and cuddly. Since it doesn't, they want it taken off the air. Heck, it makes more sense than changing the channel, right?
"How is such violent (and sexual) content allowed on tv," writes another viewer. "For example, the original psycho movie didn't show such violence, especially the shower scene. There's no reason to see him actually stabbing the man in the shower. Which had homosexual undertones as well because in the movie it's a woman that is killed. Not a naked man in the shower killed by man. AMC seems to be a satanic tv network and I believe this is a free channel, not a paid channel."
I think the Satanic Network would be part of a premium package.
Several viewers were appalled "The Walking Dead" joined forces with the N.C. State Lottery for a special zombie-themed scratch-off promotion.
Here is just one of the complaints, which makes a valid point:
"The commercial advertises a lottery scratch off game with a theme related to the TV show 'The Walking Dead.' In the commercial a person breaks off a human finger from a human hand (a zombie) and uses it to scratch off a lottery ticket. I have no problems with someone watching The Walking Dead for example if they choose to, but a commercial that can be seen randomly throughout the day by young children and other sensitive viewers is distressing. I am a 48 year old former law enforcement officer who regularly saw dismembered body parts at accidents and crime scenes, I found the imagery disturbing and I feel it is inappropriate for use in a commercial on regular TV."
Setting aside for a moment the questionable taste of the commercial and when it aired, what kind of hellhole did this poor guy work in that he "regularly saw dismembered body parts at accidents and crime scenes?"
Is "regularly" once a day? Three or four times a day? It has to be stressful working in such an accident-prone and crime-ridden city. At least in North Carolina he is able, if he so chooses, to forget about his troubles while indulging in harmless and wholesome state-sponsored gambling. Or at least he could before it was ruined by zombies.
Remember, friends, if you don't like something on TV, don't change the channel or turn it off and do something crazy like read a book. Complain to the FCC and demand action.
I can always use more column fodder.
Catch the latest in Opinion
Get opinion pieces, letters and editorials sent directly to your inbox weekly!