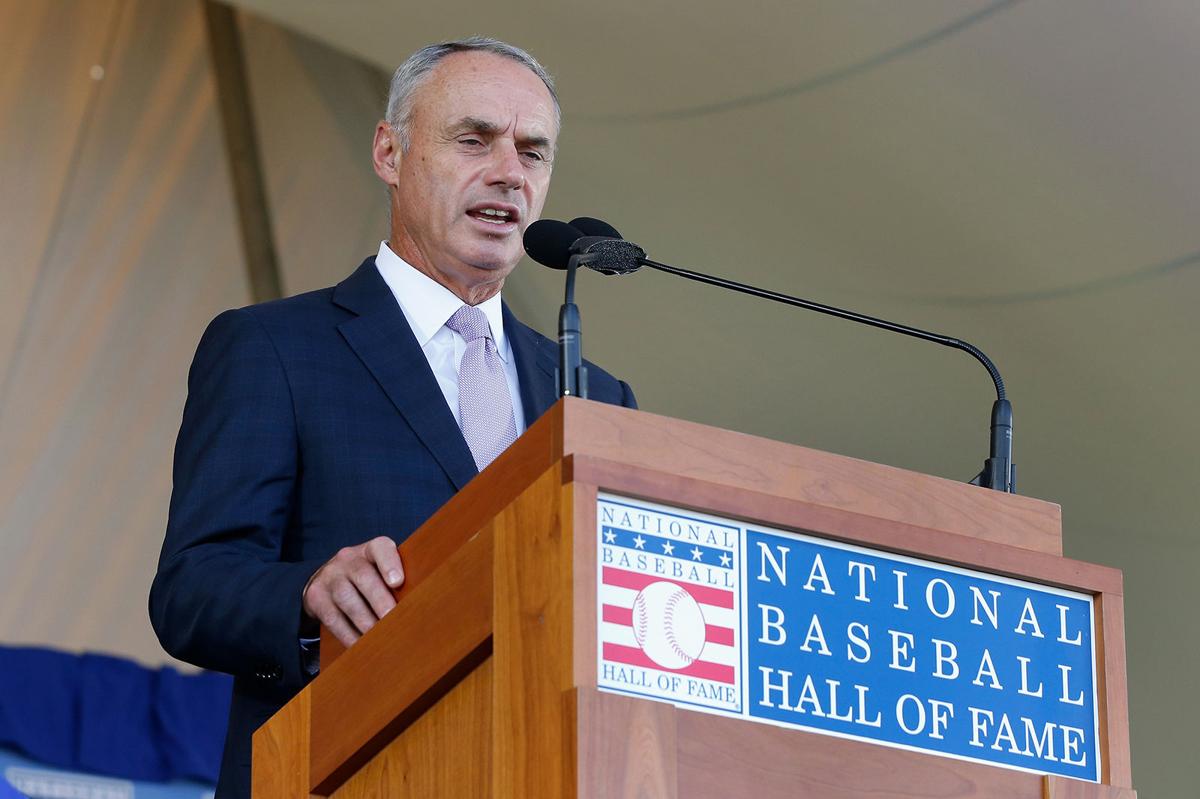 It was COVID-19 that plunged Major League Baseball into this self-destructive labor fight with the Players Association. And if the sides ever agree on a plan for a shortened season, it will be COVID-19 that threatens to wipe it all out.
Now, it appears commissioner Rob Manfred is turning to a COVID-19 spike to make one last appeal to the players for an agreement.
Faced with whether or not to accept MLB's pitch for a 60-game season - a plan that, for the first time, honors the per-game pay to which the players agreed in March - the union tabled a vote this weekend, a source said Sunday night, as the parties discussed how to move forward amid new COVID-19 cases in several baseball hotbeds, including the outbreak last week at the Philadelphia Phillies' facility in Florida.
There's still a chance, perhaps even a likelihood, that the players reject the 60-game plan and force Manfred this week to do what he dreads: Set a schedule of 50-something games at pro-rata salaries without the players' approval, likely inviting a grievance from the union and blocking the 16-team expanded playoffs that are so strongly desired by the owners for whom he works.
But in what amounts to a last-ditch attempt at a deal, Manfred pointed Sunday to the relocation of spring training to teams' home cities because of the coronavirus surge and, according to The Athletic, noted in a letter to union chief Tony Clark that playing more than 60 games is an "impossibility."
The union's executive board - comprised of an eight-player subcommittee and a player representative from all 30 teams - met virtually throughout the weekend. If MLB cites COVID-19 as the reason not to move off the 60-game plan, the players will seek further concessions. To that end, Manfred is willing to remove the expanded playoffs and universal designated hitter in 2021, ESPN reported Sunday night.
MLB informed the union Friday night that it won't discuss a 70-game counterproposal from the players. The owners drew a hard line at 60 games and a total outlay of roughly $1.51 billion for players salaries, even though a compromise at the 65-game midpoint would have cost them only an additional $4.2 million per team (roughly $125 million overall).
For five weeks, MLB and the players' union have turned what should be an all-for-one, one-for-all effort to bring back baseball in unprecedented times into a prenegotiation of the collective bargaining agreement, which expires after the 2021 season. It wasn't until June 15, after three previous proposals, that MLB gave in on trying to reopen the March agreement and negotiate supplemental pay reductions for the players.
Some players, notably Cincinnati Reds pitcher Trevor Bauer, have accused Manfred and the owners of slowing the negotiations to run down the calendar until there isn't enough time to play more than 50 to 60 games. It's reasonable to think they would resurface that charge now.
But circumstances might have changed after Friday's revelation that five Phillies players and three staff members stationed at the team's complex in Clearwater, Florida, tested positive for COVID-19, with 32 others awaiting their test results.
MLB ordered the closure of all 30 spring-training sites in Florida and Arizona and directed teams to plan for a resumption of spring training in their home cities. Even before the outbreak, the Phillies were planning to hold spring training locally, using Citizens Bank Park and their youth academy at nearby FDR Park.
It's expected to take about a week for teams to prepare their ballparks for that scenario, which would push the reopening of training camps into next week. A three-week spring training would delay opening day until possibly the week of July 27 and leaving fewer than 70 days to complete the season before the owners' desired end date of Sept. 27.
It's widely believed that Manfred views imposing a schedule as the nuclear option because of the likelihood that the players would file a grievance claiming MLB didn't make "best efforts" to play and seeking what Manfred recently told ESPN would be "an additional billion dollars" in lost wages.
At this point, though, Manfred's only alternative to setting a schedule himself would be to somehow get an agreement with the players. Unless - gulp - he calls the whole thing off altogether.
A canceled season might be an eventuality anyway if teams reconvene for "spring training 2.0" and experience COVID-19 outbreaks similar to the Phillies'.
Asked Friday if the Phillies' outbreak makes it less likely that MLB will be able to stage a 2020 season, managing partner John Middleton called it the "$64,000 question." In his statement about the initial wave of positive tests, Middleton said "it is too early to know" the implications.
As one veteran player on another team put it, "There's so many things that are out of our control."
Be the first to know
Get local news delivered to your inbox!