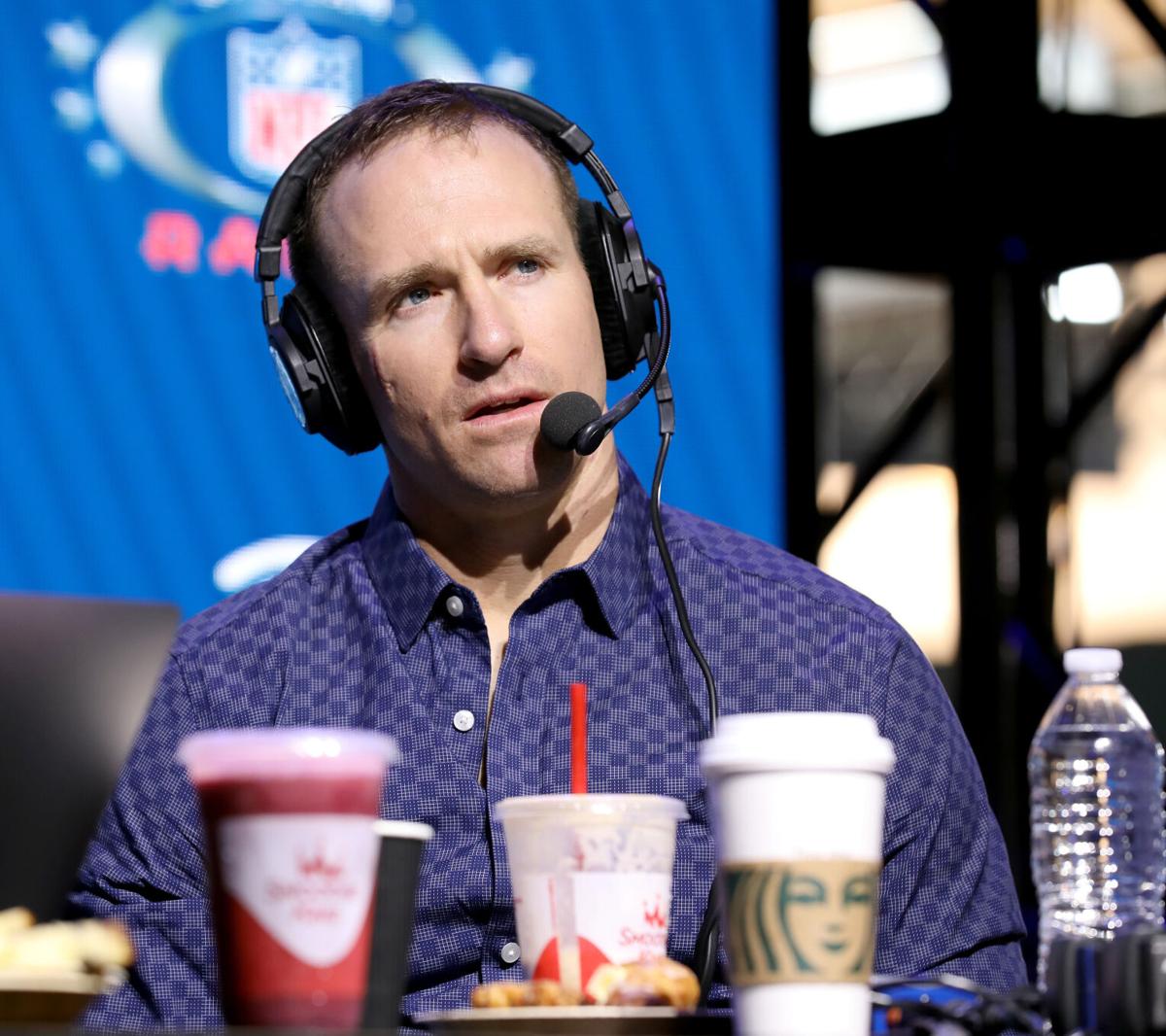 Saints quarterback Drew Brees stands for the national anthem, hand over heart, eyes fixed on the American flag. He is nearly brought to tears when he hears "The Star-Spangled Banner."
Every Sunday that Brees takes the field and peers up at those 13 stripes and 50 stars, he does so from a place of privilege many black Americans never will understand, including his teammates and former NFL quarterback Colin Kaepernick. Brees can look at that flag with conviction and know his ancestors never served as slaves while it waved in the distance. He can sing Francis Scott Key's words without considering the third verse, which references the killing of Colonial Marines, two units of former slaves who joined British forces and fought in the War of 1812. He can remember the precious lessons learned from two grandfathers who put their lives on the line in World War II.
On an even simpler note, Brees can trace his family lineage, which is not a given for every black family. Just as slavery started in the Colonies in 1619, so too did the splintering of African families. Relatives have been separated by the slave trade, mass incarceration and gun violence for centuries, along with shorter life expectancy because of fewer healthy food options and less access to health care. In the wake of the police killing of George Floyd and nationwide protests, the threat of law enforcement has also come to the attention of the public.
Some in the black community, myself included, live with incomplete family trees and stories yet to be unearthed. Through the years, as elders were lost, more family history was erased with each new generation. And, to be honest, I haven't always been the most diligent about filling in the blanks. My maternal grandfather, Eddie Thompson, died when my mother was young, and my paternal grandfather left the family. For a long time, the buck stopped there for me. That changed only recently.
In the days before Brees' comments about disrespecting the flag outraged black people across the country, my great uncle, Henry Thompson, the first journalist in the family, boarded his boat for a celebratory ride and posted it on Facebook. A St. Louis native who enjoys coasting on the Illinois River, it was no surprise he recreated this familiar Memorial Day scene.
The imagery was typical, a day complete with family and a spell-casting sunset. It all seemed innocuous enough, but the deeper I dove into the Facebook post, the more startled I became. The sound of soft jazz was cut as my uncle, a radio man, said in a booming voice, "Did you see that boat with the confederate flag? I tell you man, this ignorance is pervasive."
Little did I know that second sentence applied to my family in a different way. I finally made it to the meat of the post and read the text: "Remembering my brother Samuel Thompson, killed in Vietnam at age 19 on November 1965." I never had heard the name before.
Digging deeper still to find information, I inquired with family about the name Samuel Lee Thompson, hoping the generation before me simply neglected to mention it. They were just as clueless.
I always had known it was a privilege to have a long family lineage, one that outstretched America's original sin. But here we were allowing the erasure of a relative who was a living, breathing human only 55 years ago.
So I finally picked up the phone to call Uncle Henry, the older brother of my grandfather, Eddie. I caught him in what he described as "black man heaven" as he sat on an Illinois patio and listened to Miles Davis' "Sketches of Spain."
With a recorder in hand, as a 33-year-old adult, I learned about my family, that generations of Thompson men joined the military, serving in World War II, the Korean and Vietnam wars and returning to a different America, one with racial discrimination that wasn't welcoming to black veterans. Or not returning at all.
"We were all in the service," Uncle Henry said. "It was just a tradition - everybody joined the service." This included my great uncle Sam, who left high school track and the comfort of his parents' home to become a combat medic in Vietnam. He would die there, in Da Nang, at 19 years old, never fathering children or carving out a career - forever young.
His father, my great grandfather Henry, who was a sergeant in World War II - the war in which Brees' grandfathers fought - received news that Sam died when military men showed up at his doorstep.
Uncle Henry remembers that day as the moment his father, whom he called a pillar in the St. Louis community, finally broke down after years of being a stoic, hard-driving man who raised five children. It figures that one of those five children became a pillar in the family, completing lost parts of our history.
"Every time I'm in Chicago and I'm with your aunts and your mother," Uncle Henry said, "I'm with my brother and I'm pleasing my father. My father would want me to do that, and that's important to me."
What I learned from Uncle Henry is that we need to protect black stories the same way our ancestors protected the United States. I learned that American families, of all racial backgrounds and economic stations, put their lives on the line.
Brees might have learned something too. He has apologized three times this week and improved with each attempt. The first featured a halfhearted Instagram post, complete with a stock photo taken from Google Images. The second, a straight-to-camera video seemed more contrite, and the third was an impassioned letter addressed directly to Donald Trump.
Now Brees will receive forgiveness and opportunities to learn more about racism, and there's even privilege in that, being able to pick up a book or have a conversation about the topic rather than experience it. This country has a reciprocal relationship with people who look like Brees.
It's no wonder he holds the flag so dear to his heart.
Be the first to know
Get local news delivered to your inbox!