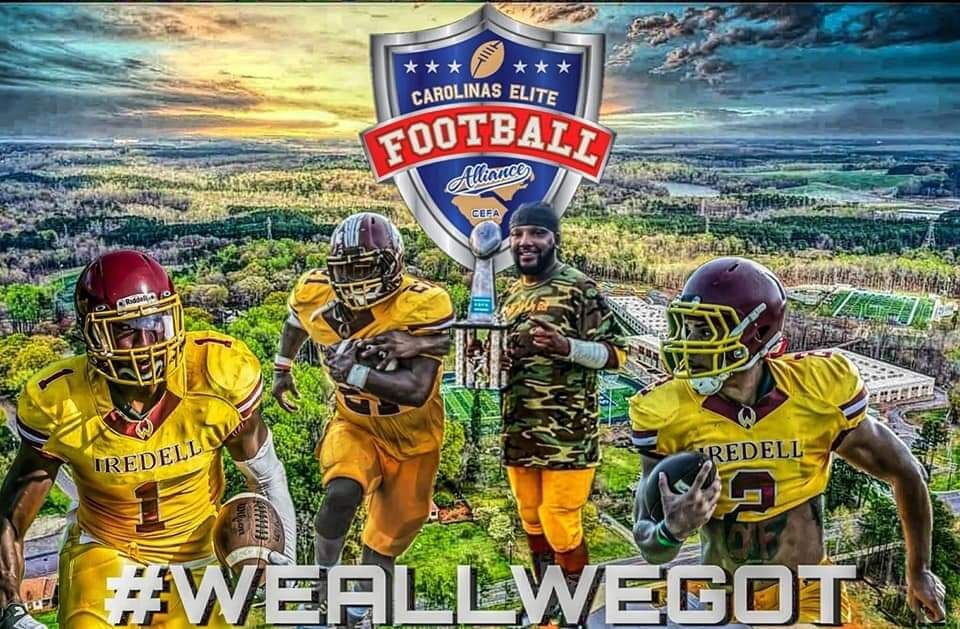 After dominating it on the local and regional fronts, one local football organization is now poised to make some noise on the national stage.
The local-headquartered Iredell Warriors minor league-level and semi-professional adult football team, which is huddled out of the field at Bellingham Park, will be featured in one of the marquee match-ups taking place during the course of later this week's United States Football Association's national championship bowl schedule.
The Warriors, undefeated at 7-0 and the undisputed champions of the Carolina Elite Football Alliance, will now take their talent to the national scene when appearing in the USFA's AA national championship contest. Iredell will face off against the Pennsylvania-based Delco Scorpions in this weekend's title tilt.
"We're excited and ready to go,'' said Torey Torrence, the Warrior's head coach. "We're planning to go down there and keep doing what we've done all season."
From even wondering from the start if there would indeed by any type of season at all due the coronavirus to actually being able to engage in both a regular-season and postseason schedule, Iredell worked wonders to merit the right to receive the coveted national championship invite.
"To be honest,'' said Torrence, "I really had no idea what to expect this season. It was crazy. We didn't even know if we were going to have a season. Then, we didn't know the players we were going to have available. Looking back at what all we went through, this has to be one of our most challenging and satisfying seasons."
Doing so to also help celebrate the 20th anniversary of the franchise's existence, the most recent edition of the Warriors – once again featuring a healthy number of local athletes on their roster – attached yet another campaign's championship crown to be positioned on the organization's already somewhat crowded mantle.
Previous editions have also prevailed as conference champions, the latest one taking place during the 2017 season. Iredell also collected back-to-back circuit crowns earlier in its program's history as well. Close calls have also become near commonplace. Numerous past squads have also merited the right to reach championship contests.
"For this to happen in our 20th anniversary season,'' said Torrence, who has been a part of all the teams over the past two decades, "that really makes it special. I don't know if that was an extra incentive for us, but it sure turned out that way."
There was some serious concern over whether there would even be an opportunity to compete much less stage any sort of postseason celebration.
Caused by COVID-19, plans for play in the CEFA were initially put in a holding pattern in much the same way that an abundance of other sports activities were also placed on suspension.
Following discussions on the part of league officials, a plan was approved to allow the season to take place.
Teams were required to shorten seasons, dropping the number of regular-season games from the previous eight to five. Also, locations for games were also taken into consideration. Instead of teams being allowed to conduct games on their home fields, common sites in three locations were designated to host the games. Play was held on fields hosting multiple games involving all league members appearing at the same sites.
"It was hard not being able to have any real home games,'' said Torrence, whose team traditionally calls the field at Mooresville's Bellingham Park its own. "The main thing we wanted was to have some sort of a season. We all decided to play the games at central locations so that we could conduct the schedule. We're just glad we got to play."
The Warriors posted a 5-0 mark during the regular season to nail down the number-one seed for postseason purposes.
In the playoffs, the Warriors advanced to the title tile and rode another stellar defensive effort to complete the undefeated effort.
It was and continues to be the team's defensive unit that generates the bulk of its success. For the season, Iredell allowed only a grand total of 10 points. The defensive unit was tagged for the allowing of a single six points.
"We have an explosive offense,'' said Torrence, careful not to reveal too many of his team's formula for success, "but in the end, defense wins championships. We only gave up one touchdown all season, and that was on a blown coverage. The other points came on safeties by our offense. I don't know if we've ever had a better defensive season based on our statistics."
Iredell again relied strongly on the contributions of local products in keeping with a longstanding tradition, including those hailing from Mooresville High, Lake Norman High and Statesville High from Iredell County alone.
"We always have some quality players from right here on our team," said Torrence, "and we go out and recruit players we think might meet our needs. We've developed a reputation here now, and we want to do our best to protect that."
The opportunity now exists to enhance that status on a national stage.
The Warriors were assigned their nation-wide AA status for the USFA championship affair that was based primarily on the number of games that each qualifying team was
able to play. With programs from elsewhere across the country able to engage in a full complement of games, teams selected to play in the national title games were assigned the various classifications according to their respective individual records.
"We really don't care who we play,'' said Torrence, "as long as we get the chance to show what we can do. We feel like we can play with any other team in the country."
Financial assistance in helping allow the team to take the trip is coming courtesy of Randy Marion Automotive as well as Nuvizonz Hair Studio Barbershop.
The Warriors have been able to fine-tune their efforts courtesy of conducting practice sessions in continued preparation for the national title contest. The team plans to depart for the game later this week.
Iredell will appear in the USFA AA championship game against the Scorpions in play scheduled Sunday afternoon in the Orange Bowl slated to be held at the Showalter Stadium site in Winterpark, Fla. The contest is also slated to be streamed live via various broadcast outlets.