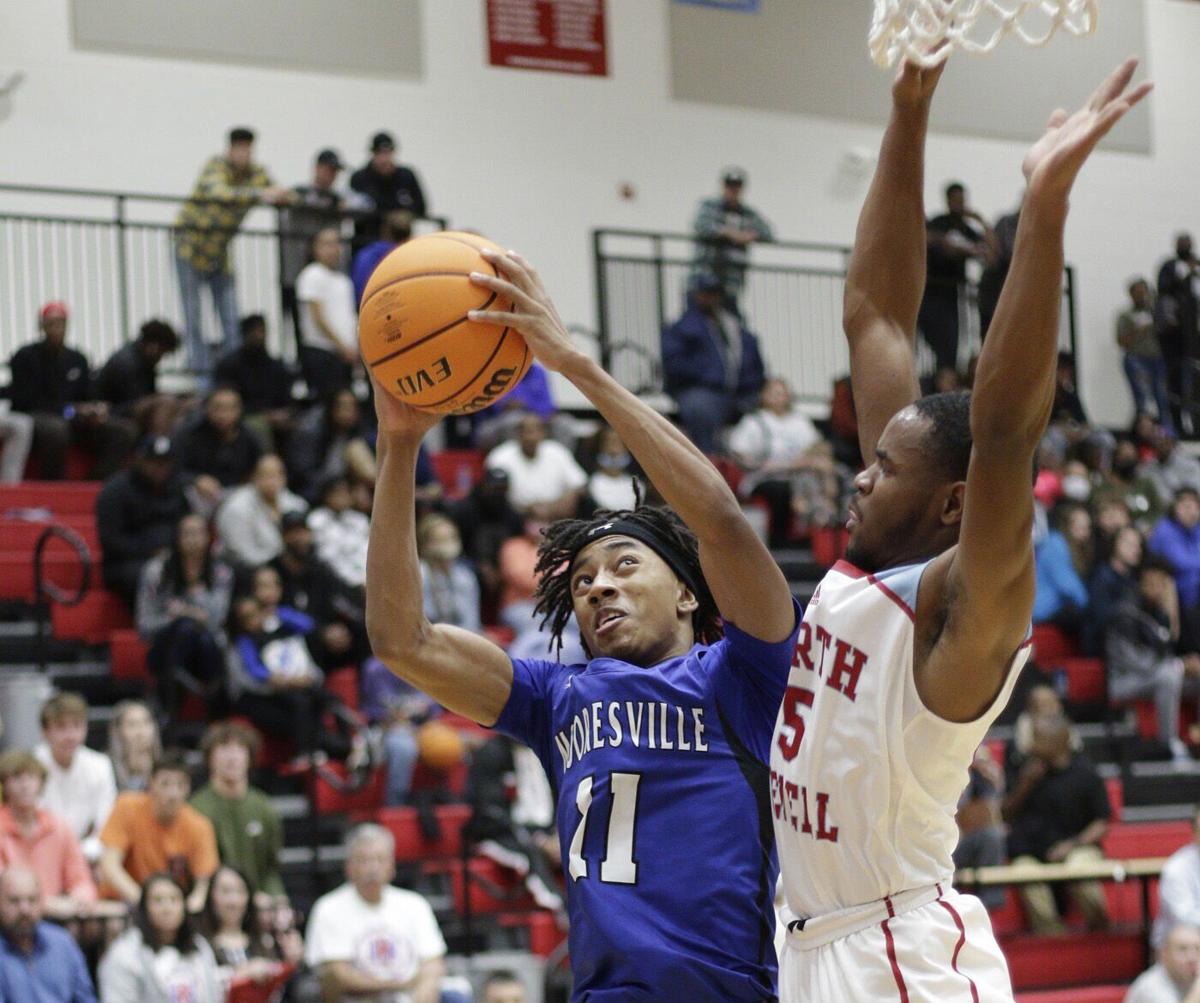 OLIN—Mooresville overcame a poor first half offensively with an impressive second-half performance on its way to a 56-49 over North Iredell, advancing to the North Iredell Holiday Tournament finals as a result.
The Blue Devils struggled to find a rhythm offensively early, scoring just four points and trailing at the end of the first quarter 17-4.
It was much of the same in the second as North Iredell's match-up zone continued to pose problems for the Blue Devils. The two teams traded buckets and headed to the locker room with North Iredell leading 28-17.
The senior-led Mooresville team came out in the second half looking like a completely different team, whittling away at North Iredell's lead. A buzzer beating three-pointer by Kyrell Shaw brought the Blue Devils to within three at the end of the third quarter.
"I told those guys, it's all about defense. Focus in and be coachable," Mooresville head coach Armard Moore said. "North Iredell is a great team, but we just calmed down and played Mooresville basketball."
With the ball finally going through the hoop for Mooresville consistently, it was able to ramp up the defensive pressure on the Raiders. The Blue Devils used multiple full-court defenses in the fourth quarter, all of which gave the Raiders trouble.
Mooresville crawled back into the game in the fourth, methodically cutting North Iredell's lead. The Blue Devils tied the game at 44-44 with 4 minutes left before taking their first lead 48-46 on a lay-up by Christian Herring with 2:30 remaining.
North Iredell had a few chances to tie the game again down the stretch but missed key free throws.
After the Raiders missed the front end of a 1-and-1 with less than a minute left trailing by only two, the Blue Devils broke North Iredell's press twice and scored two easy lay-ups to extend their lead to 54-48 with 23 seconds left.
With the win, Mooresville moves on to the tournament final where it will face Rocky River Thursday at 8:30 p.m.
"They are fast, they play good together," Moore said of Rocky River. "We've got to contain those guys and take this momentum right here and build for (Thursday) night."
The Raiders will play Bessemer City at 5:30 p.m. in the third-place consolation game.
Mooresville;4;13;17;22—56
North Iredell;15;13;9;12—49
MOORESVILLE (56)—KC Shaw 21, Herring 14, Stewart 8, Kyrell Shaw 8, Ezhilan 3, Reid 2.