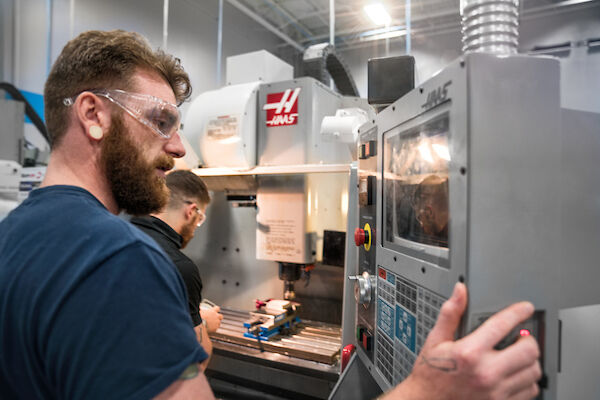 It pays, now more than ever, to be prepared.
That's particularly the case in the case in professional automobile-related affairs.
Doing it to meet the demand products of one of the the area's own can attest to that.
Despite the recent jobs report showing the United States lost 140,000 jobs and continuing record national unemployment, employers across the country are hiring trained graduates of Mooresville's NASCAR Technical Institute at an increasing rate.
According to a recent case study conducted by the Iredell County Economic Development Corporation, NTI's Computer Numerical Control program and well-established industry partners like Roush Yates and Mitsubishi Materials USA are shaping the regions' automotive industry.
Graduates can seek career opportunities in a myriad of industries, including in the automotive, motorsports, aerospace, defense and medical fields following participation in the 36-week program. Since its inception in 2017, 250 CNC machinists have graduated with the majority of them securing employment
Wyatt Pearson, who graduated from the CNC Technology program after the COVID-19 pandemic began, said he knew demand for machinists was still high, but he was surprised that he had multiple offers from manufacturing companies surrounding area in spring of 2020. He currently works as an operator at Compaero, which manufactures parts for aerospace and defense.
"So many businesses and companies have shut down, but the country can't run without manufacturing," said Pearson. "Manufacturers are the ones the country relied on when the pandemic hit. We're an essential business and demand has been steady for our products. When you have a skill like this, you have it for life, and the knowledge I acquired at NASCAR Tech can serve me in many different industries."
In the last several months, recent graduates have also started careers with national and global manufacturers such as Ingersoll Rand, Maclean-Fogg, Wakefield-Vette and Roush Yates Manufacturing Solutions. Recent graduate Charles Hilliard said his company, Revmax Torque Convertors in Charlotte, has had one of its best years yet. He began working there as a CNC machinist in the summer of 2020, producing parts for diesel transmissions.
"Even if the economy slows down and people lose their jobs, there are still necessities like keeping our vehicles running," said Hilliard, who began working as a machinist last summer producing parts for diesel transmissions. "I absolutely love my job, and if we weren't working, we wouldn't be able to keep people on the road."
NASCAR Cup Champion Brad Keselowski, driver at the premier NASCAR Cup Series level for Mooresville's Team Penske, has been hiring at his Iredell County-based Keselowski Advanced Manufacturing throughout the pandemic too. He is known to call on NASCAR Tech to fill open positions at his company. He praises their graduates as professional, passionate machinists.
"The specialized, condensed curriculum that NASCAR Tech students are exposed to prepares them for entry-level positions at KAM. Advanced manufacturing is a fast-moving, ever-evolving industry, and KAM sits at the forefront of many initiatives driving Industry 4.0 Manufacturing into the future," said Keselowski. "Unfortunately, our country has faced a deficit of talent entering skilled trades over the recent past. Now more than ever, as COVID-19 has exposed supply chain weaknesses worldwide, our country is going to look from within to emerge at the forefront of manufacturing, and we know that NASCAR Tech graduates are prepared for the intense, rapid innovation of advanced manufacturing."
Along with the CNC Machining Technology program, NASCAR campus also offers the Universal Technical Institute core automotive training program, Manufacturer-Specific Advanced Training with Ford, Nissan and Mopar, and an optional 15-week elective to train students for a career in motorsports, including hands-on training in engines, fabrication, welding, aerodynamics and pit crew essentials.
Through NASCAR Tech's elite Spec Engine program, select students have the opportunity to build engines that will compete in NASCAR-sanctioned races.