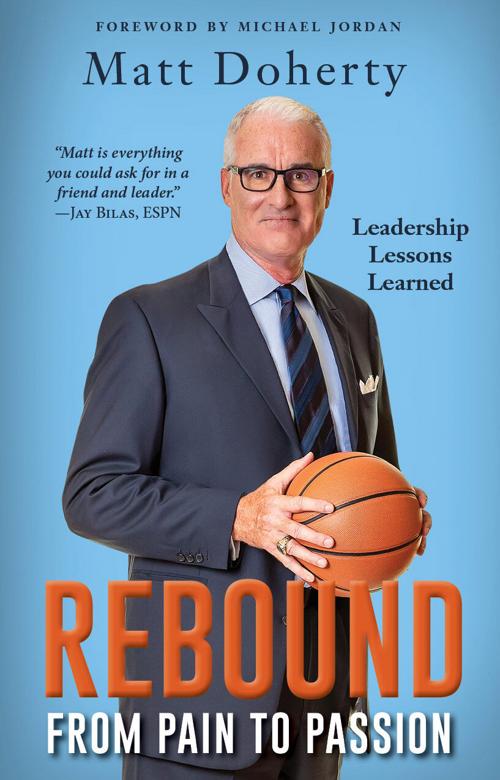 Take it from one who has been there and back.
Mooresville's Matt Doherty has been through the professional ringer. He has been at the highest of highs. He has endured the lowest of the lows. He has recovered well enough to reveal what it took for him and what it takes for others to follow a similar path.
This week, Doherty – a family man with a wife and two children residing in Mooresville – officially releases his book, "Rebound From Pain to Passion" to allow any interested to become successful.
Doherty experienced individual success as a premier basketball player both in high school and college and as a coach of some of the collegiate game's most revered programs. He also endured some professional setbacks that took him out of the limelight. His latest role as an author traces those trials and tribulations in hopes of providing readers with advice on how to accept the ebbs and flow in sports, business and everyday life.
Doherty played and coached basketball at the University of North Carolina. He started on the 1982 National Championship team coached by the legendary Dean Smith while playing alongside future National Basketball Association stars Michael Jordan and James Worthy.
Following his playing career, he went on to a successful career in coaching. One of his first courtside tenures took place as an assistant coach at Davidson College. He also spent time in the same capacity at the University of Kanas.
In 1999, Doherty was named head coach at the University of Notre Dame, which for an Irish Catholic youngster from Long Island was an incredible opportunity as well was one with which he anticipated would last a long time.
However, in June 2000, Bill Guthridge —then head coach at UNC — decided to retire and Roy Williams was expected to replace him. When Williams turned down the opportunity, UNC turned its attention to Doherty. With the help of former teammate Jordan, Dean Smith recruited him to come "home" as the head coach of the UNC Tar Heels.
In 2001, UNC won the ACC Regular Season Championship and Doherty was voted 2001 AP National Coach of the Year. A mere two short years later and amid turmoil, he was forced to resign from his dream job.
For Doherty, going to such extremes within a relatively short amount of time served as a reality check. With the support and encouragement of family, friends, and respected colleagues, he embarked on a leadership journey that includes studying at The Wharton School and the University of Virginia Darden Graduate School of Business.
His latest book written in a straight forward and authentic manner invites readers to a front row seat inside his life journey through engaging and riveting stories of both his successes––and failures. Drawing from his personal and eye-opening learning experiences, he hopes this book will serve to inspire, encourage, and help others create a game plan that will help them navigate the rough seas of leadership through life and in business.
"Not everyone is a born leader," says Doherty. "But everyone can become a better leader. Whether coaching a sport, running a company, or leading your family, there are skills that can be developed to put you and your organization in position for success."
The forward for the publication is written by Jordan, and a number of additional well-known personalities within the world of sports and business are among those who have already voiced their support of the author's efforts.
Since his time at UNC, Doherty has worked as a head coach at the collegiate level in addition to working at ESPN, with the Indiana Pacers and the Atlantic 10 Conference. He currently runs the Doherty Coaching Practice, which includes executive coaching, seminars, and corporate talks.
He continues to work in the media with weekly radio shows in the area and the ACC Network, where he is a color analyst for basketball games.
Doherty is married to Kelly and has two children, Tucker and Hattie. They reside in Mooresville.