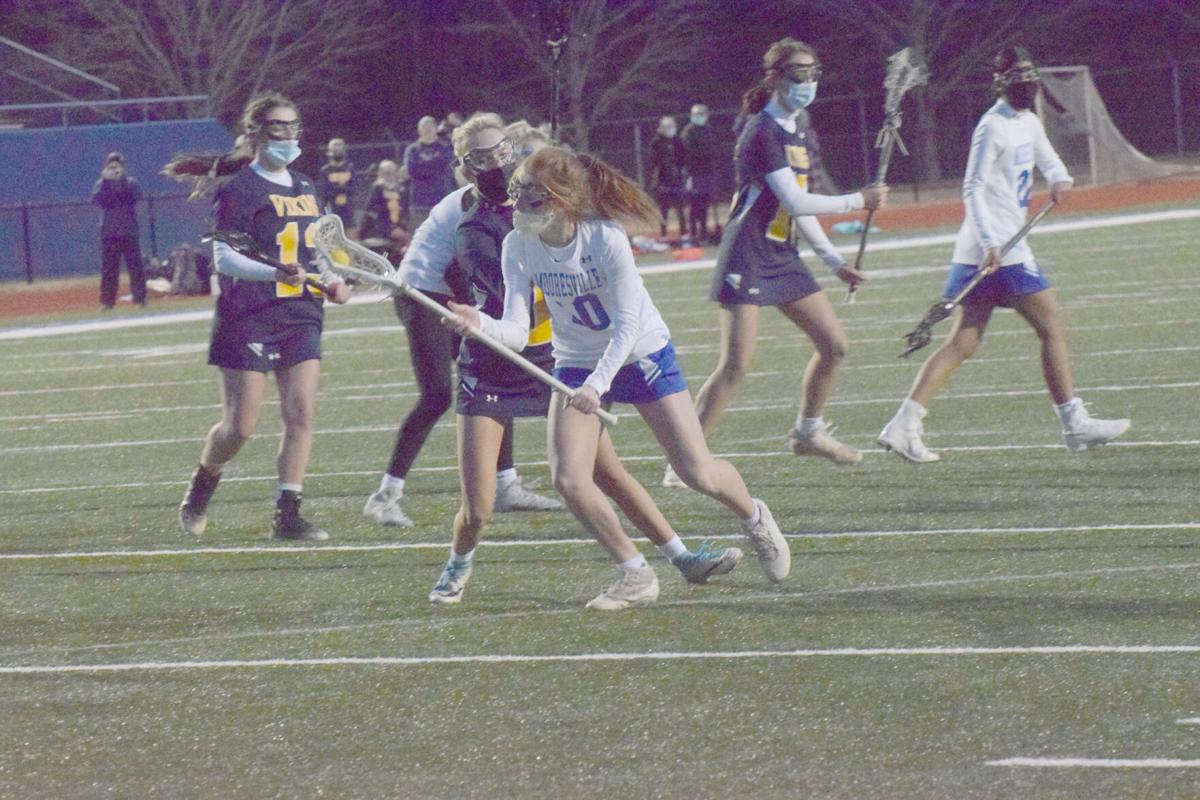 Mooresville High School's girls lacrosse team was full of it Monday night.
The Blue Devils snapped a short losing skid used to start their season in all-too-timely fashion when defeating fellow same – and otherwise unnamed – Conference 12 member South Iredell, 7-6, in overtime.
Playing under mid-winter seasonably cold conditions in place inside the Devils' Coach Joe Popp Stadium site for their first homefield appearance of the still somewhat early-season schedule as well, the Blue Devils forged a tie late in regulation play and then, adhering to overtime protocol, landed the first successful goal during the thee-minute extended period to prevail.
With the win also coming in the C-12 debut for both teams, Mooresville upped its ledger to the 1-2 mark for the season overall while also getting off on the right 1-0 foot within crucial in-circuit competition.
One member of their roster in particular wound up sticking out above all the rest. Freshman combination midfielder/attacker Ciara Cacciatore more than supported her selection as the player of the game by the Blue Devils' head coach courtesy of her all-around accomplishments.
First-year varsity level player Cacciatore donned a personal hat trick comprised of three goals and also directly played a helping hand in leading to each of the other four by being credited with assists each and every time.
While all proved vital, perhaps none other of the assists stood out as bright as did her last. It was Cacciatore's feed to teammate sophomore combo middie/attacker Tatiana Verity less than a minute into OT that also wound up as the game-winner during the course of the equivalent of sudden-death play.
Also for Mooresville, it gathered in additional solo strikes apiece from the twosome comprised of senior middie co-captain Elizabeth Ihm and junior-class attacker Sydney Cacciatore to complete the contest's grade-level cycle. As least one goal came courtesy of at least one team member apiece from each of the senior, junior, sophomore and freshman classes, respectively.
Rounding out her performance, Ciara Cacciatore also gathered in a team-high six ground balls while junior defensive specialist and co-captain Cadee Linker collected another five ground balls to aid the cause.
In the victorious team's goal, a pair of keepers shared time tending the net. The duo of senior starter Molly King and sophomore substitute Makenzie Harrington combined efforts to account for a total of 11 saves almost near-equally accumulated between the two.
Mooresville returns to the field when taking on non-conference host Davie County on Thursday night.