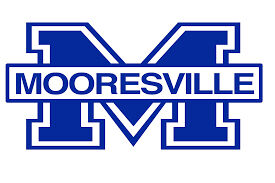 Weight gains helped make up for wrestling's waiting game.
Mooresville's wrestling team racked up the individual weight class wins via various methods to make a success of its longer-than-usual wait for the sport's season to finally arrive.
Traditionally conducted during the winter segment of the calendar year, wrestling will instead be held during the spring due to one of the most drastic adjustments made in the routine by the ruling N.C. High School Athletic Association.
The Blue Devils welcomed the change with open arms.
The Devils debuted with the picking up of wins over Mt. Pleasant by a 46-33 count and West Cabarrus by a 57-24 margin to exit the opening tri-team affair undefeated.
In the downing of Mt. Pleasant, solo weight class favorable outcomes via pinfall were logged in by Jaiden Noblezada at 132 pounds, Johnny Merriman at 145 pounds, Jake Emmert at 152 pounds, Luke Goodin at 160 pounds and Desmond Jackson at 182 pounds.
At 126 pounds, Austin Emmert bested his foe with a major decision.
Forfeits were awarded to Calvin Nguyen at 106 pounds and Davis Freeze at 138 pounds.
In the triumph over West Cabarrus, wins by pins were collected by Nguyen, Austin Emmert, Noblezada, Merriman, Jake Emmert, Goodin, Jackson and Blaise Mann at 195 pounds.
The Devils' Brady Rapp earned a win by decision at 170 pounds, while Ray Watson was gifted a forfeit at 220 pounds.
Mooresville returned to the mat when taking on both Davie County and Northwest Guilford to conclude the first full week of the state's new-look high school varsity wrestling spring season.