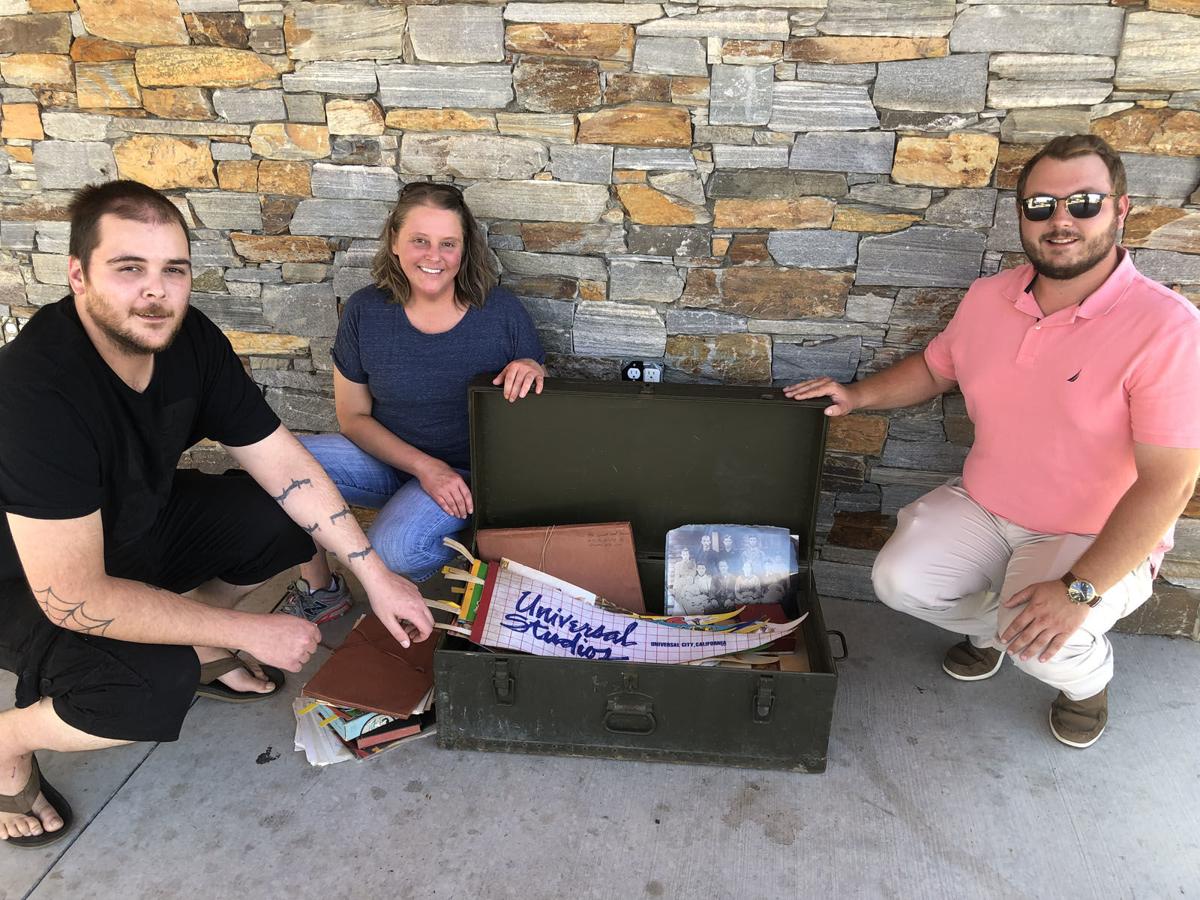 An antique trunk full of family keepsakes and heirlooms has been returned to the rightful owners, after that family thought it had been lost.
Wesley David Hensley of Marion bought a trunk during the weekend of Saturday, Sept. 14 and Sunday, Sept. 15. He found it at a local antique sale.
When he looked through the military-style trunk, he found it contained numerous family keepsakes inside such as family Bibles, souvenirs from vacations, old photos, report cards, Air Force registries and some Air Force dog tags. Looking through the materials, he realized it had belonged to Carroll and Betty Sue Kanipe.
Carroll Kanipe served his country in the U. S. Air Force and was a member of the American Legion Post 56. He was a member of Cross Memorial Baptist Church. A long-time agent with Woodmen of the World Life Insurance Co., he also owned a number of different local businesses in Marion through the years. He volunteered at the Senior Center with the Meals on Wheels program and also at the Charles George V.A. Medical Center in Asheville. Both Carroll and his wife Betty Sue passed away in 2017, according to his obituary.
Hensley noticed the trunk contained a lot of materials related to their daughter Kimberly. He turned to Facebook and see if he could find her.
In no time, he was able to find Kimberly Kanipe, who lives in Marion, and arranged for them to meet so she could get her family items back.
On Monday, Kimberly Kanipe and her son Caleb Frisbee met Hensley at the City Stage on North Main Street in downtown Marion. There, Hensley handed over the antique trunk.
"I am so very glad we were able to locate Ms. Kanipe and are able to return her precious family memorabilia to her," he said.
Kimberly said she was not sure how this trunk ended up in an antique sale but she was certainly happy to get it back.
As she went through its contents, she noticed the souvenir pennants that came from family vacations, her old report cards, family photographs and numerous other items. She was especially happy to get her father's Air Force dog tags back. She plans to add them with the flag that covered his casket.
"It makes me feel awesome to think this stuff is still around," she said. "I'm going to have fun going through all of this."
Be the first to know
Get local news delivered to your inbox!